This week Best of Bombay features a smorgasbord of events whereby you and your significant other can celebrate love in style. For the rest of you people out there who are sick and tired of seeing heart shaped chocolate boxes, balloons and are fed up of the mush being thrown in your face, maybe you and a friend could just check the events out only for the food and drink. Trust me, it will be worth it. Don't believe me? Read on and prepare to drool.

NEW

PLACES

EVENTS
CAFE MOCHA
That special feeling is in the air once again and Mocha Coffees and Conversations is condensing it into one, big, lovable experience! "MochaLoveWeek" – a seven-day celebration. Choose between dessert delicacies like Passion Pyramid (checkered squares of pound cake lined with passion fruit), Strawberries Forever (frozen strawberries with whipped cream and chocolate – an absolute aphrodisiac), Berry Bubbly (stewed fresh strawberries with champagne mousse) and more, while the drinks are fantastic concoctions like Mist (watermelon cubes in sparkling wine), Diva (strawberries dipped in chocolate with sparkling wine) and more.

BUSABA
This unique Far East eatery gives you the perfect reason for a cozy twosome. The special menu extends from Steamed Tibetan Momos, to Thai curries, Glass Noodle Salads all the way to Lemon Chiffon Pie and Chocolate Mousse Cake. All this for Rs. 975/couple. On the 14th of Feb.

TRAFALGAR CHOWK
'HAVE I TOLD YOU LATELY..........' On Friday-Valentines Eve & Saturday-Valentines Day with a L-I-V-E duo and a whole new hors d'ouvres menu. Enjoy a mushy candle-light dinner in a very cozy atmosphere with dedications and TC surprises!!

RED LIGHT
Gary Lawyer Live
On Friday Gary lawyer will be playing live at Redlight along with his band. He will be launching the Boogie Nights which basically comprises of retro music from the 60's to 90's.
Redlight will be having a Valentines Day special where all house drinks will be priced at Rs.100/- and there will also be a minimal cover charge for the night. DJ Tushqa will be playing a wide array of music ranging from Hip Hop to R&B to hindi remix tracks.

OUT OF THE BLUE
Out of the Blue has a Valentines day lunch and a Candle-lit dinner. They have four set menus to choose from. For Rs 250 per head they have Broth Fondue, A large sizzler, Chocolates and dessert. For Rs 325 per head one can indulge in the delectable cheese fondue, sizzler, 2 ice-teas or sangria's along with chocolates and dessert or they could go for the Broth Fondue, Salad/ Starter, Pasta/ Sizzler small, Ice Tea with Chocolates and Dessert. Just for Rs 450 per head one devour the cheese fondue along with 2 Iced Tea/ Sangria, a Salad/starter/Soup of the day and Pasta/ Small sizzler of the day with chocolates and desserts to add sugar to their romance.

JAMAVAR (THE LEELA)
Enjoy a brilliant spread on Valentine's day at Jamavar, the new Indian Restaurant at the Leela for Rs. 3500/ Couple. The menu includes delicacies like Seekh Gilafi Kabab, Aleppey Fish Curry, Nawabi Kofta and Malai Kulfi.

HOTEL SUN N SAND

Poolside
Unlimited kebabs, roomali roti & biryanis with a heart shaped cake. DJ and a dance floor. Reservations compulsory. Rs 800 plus taxes per couple. On the 13th, 14th & 15th of Feb.

Aqua Coffee Shop
Combo meals with complementary drinks. Rs. 450 + taxes per couple. On the 13th & 14th of Feb

Sunset Room
Continental dinner consisting of a 6 course menu, welcome drink ,Live band and prizes for the best dressed couple.

HOTEL RENAISSANCE

Velvet Lounge
Celebrate romance in an ambience that's just perfect – candles, mosaic mirrors to catch their shimmering light, warm colours in a cozy setting, mellow music and exotic Mediterranean cuisine. Don't miss the velvet love potion. The action rolls out 7:30 pm onwards. Cover charge Rs. 999 per couple

Lake View Cafe
Get transported to a realm where romance permeates every nook as Pop Diva, Sharon Prabhakar and top Jazz vocalist, Joe Alvares lift you with their lilting serenades against the backdrop of a serene lake, candle lit tables w and unlimited bubbly.*Rs. 1399 per couple. Price inclusive of free entry to Velvet Lounge.



Mocha - Coffees and Conversations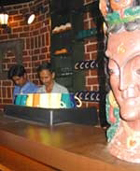 That special feeling is in the air once again. From the 11th to the 17th of this month we bring you MochaLoveWeek – a seven-day celebration of couple-cuteness. A brand new menu has options of desserts and drinks.
At Rs 250, avail of one dessert of your choice with two glasses of wine, while Rs 425 gets you a dessert, and wine for two plus a tapas platter. But here's the winner – at just Rs 1500, get a special piece of jewellery from Adora's Love Collection of jewellery, plus dessert and wine for two.
The long-term benefits of celebrating at Mocha also include walking away with a pair of Skechers, besides diamonds, desserts and drinks. Pen a few lines on why you love your girl / guy, and the one who expresses it best walks away with a pair of genuine Skechers!! Make a wish at the Wishing Well at Mocha. Wish hard and drop in a coin – the money will go towards charity, helping someone else's wishes come true! Roses for each lady who walks in.


www.bestofbombay.com