Jim Morrison was referring to L.A. when he sang that, but Mumbai isnt far behind. It isnt called the city that never sleeps for nothing. The night is when the city comes alive; when the party animals prowl the streets. So it is only fitting that for the next couple of issues Best of Bombay cover Late Night Eateries as a tribute to all you party animals. This week we look at midnight buffets around the city.

The Grand Maratha Sheraton - Peshwa Pavilion
Fridays and Saturdays from 11.30 p.m.-2:00 a.m. Buffet includes the Main course and the desert.
Rs. 500 inclusive of taxes.

Marine Plaza - The Bay View
12:30 a.m.-3:00 a.m. Rs. 250 All Inclusive
Soup/salad/main course and deserts at

The Orchid - Boulevard Coffee Shop
11.30 p.m. to 3:00 a.m. Rs. 299 all inclusive of taxes.
Multi-Cuisine Menu. Salads, Main course, deserts

Taj Lands End Cafe
Fridays Saturdays and Sundays 460 all inclusive
Soup/salad/starters/main course
12:00 midnight-2.30 a.m.

Rodas - Parabola
Friday Sat Sun 12:00 midnight - 3:00 a.m.
Rs. 225 All Inclusive for Soup, Salad, Main Course, Dessert.

Le Royal Meridien - La Brasserie
12:00 midnight to 3:00 a.m.
Rs. 325 All Inclusive. On all days except Monday
Soup, Salad, Main Course and Dessert


NEW

PLACES
Jamavar, a new Indian restaurant has opened at the Leela Kempinski
Tantra, a North-West Frontier Cuisine restaurant, another venture by Chateau Indage, opens this week in Andheri. Call 26733333 for info
Mangi Fera, an Italian Restaurant opens on Friday in Juhu. Call 56751728 for info.

EVENTS
Till the 31st of Jan

'Keep Rolling' at Aqua the coffee shop at Hotel Sun-n-Sand. This 'Wraps and Rolls' festival promises to make your mouth water with a huge variety of veg and non-veg rolls.


From the 22nd of Jan till 1st Feb

Laziz Shorbas at Saffron, JW Marriott. A soup festival with a rich choice of vegetarian and non-vegetarian Indian soups at the live counter.

Celebrate Chinese New Year with Spices at the JW Marriott. A perfect Chinese Set Menu for Rs. 1450/head. For Details call 56933290


Wednesday

'Los Acousticos' . Latin, Portuguese, Spanish music at Trafalgar Chowk

The Cuban festival at Mocha continues with a recitation by Ahlam Khan of the Poetry of Marriano Brull - The Diplomat Poet of Cuba at 8:30 p.m. at the Juhu Mocha. Also on Thursday at the Churchgate branch.

Model find on Uber Wednesdays at Rain


Thursday

One on One Night at Sutra, The Bollywood Lounge

Tantra Thursday at Tres Botas

Submerge at Rock Bottom


Friday

Drink all the beer you can for Rs. 300 at Sutra. Valid till 11 p.m.

Golden Gate Breaks with DJ Dandelion and DJ David Starfire at Tres Botas

Trafalgar Chowk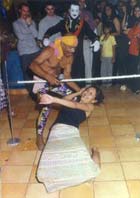 A 90 seater restaurant with bright yellow and blue walls, floating candles, rustic wooden panels and coloured pebbles, Trafalgar Chowk is a 'dining terminus' where people can wine, dine, swing and rock together in an ambience that expresses a subtle blend of an Anglo-rustic theme with that of a more local one. There is a separate area for private parties and other events. There is ample seating and elbow room, air-conditioned as well as alfresco dining and a separate party area for private parties and other celebrations. There is a well-stocked bar with a Wine chiller too to keep you in high spirits throughout the evening.


www.bestofbombay.com