Get a Party Hard Driver to drive you home!


Win Free Vouchers!!


| | |
| --- | --- |
| | |

An IST CALL but TOLL FREE!
We've seen the chaos in CHAOS THEORY and waited for the President in The President Is Coming –the movie and the play. Anuvab Pal, whose pen sketched both these laughter attempts-, is back with his attempts at trying to connect India and America, this time though the phone and death!

The word death might give it a melancholy feel, but this is a suicide helpline for Americans, where our oh-so-hospitable Indians will try and save another life and fight communication barriers on the way!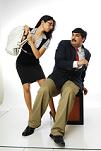 1-888-Dial-India is one laugh trip with hope and satire creeping in at times. Turning the impossible into possible is what this entertainer works on..

It's Sophie Choudry, one of the actors, who is grabbing most headlines, and especially the page 3 ones, and exclaiming that theatre is a tried and tested art for her-some theatre experiences in college (London) to support her venture! But this play has many a more fun and glossies!

Kunal Roy Kapur, the lead actor, has been through Loins Of Punjab, Mumbai Calling and a deep and long friendship with Anuvab Pal!

When Anuvab was asked about the similarities between President is coming and 1888, considering both mock the Indian-American love hate relationship, he said, "President was about the obsession of winning reality contests, 1888 is about the rise of an entrepreneur. It is true that both deal with Americans but this one is much more a look at new India and how new entrepreneurs are creating it."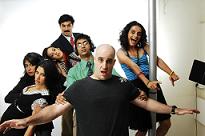 So invest 90 minutes of your time, and head for a rib tickling time for 1-888-Dial-India !

The Cast: Sophie Choudry, Kunaal Roy Kapur, Ashwin Mushran, Faezeh Jalili, Ratnabali Bhattacharjee, Siddharth Kumar.

Written & Directed By : Anuvab Pal

For booking details, please call on 66548135 / 22824567/ 9833644058

The show schedule is as follows:

12th July - Sophia - 7:30
26th July - Sophia - 7:30
30th August - Sophia - 7:30
13th Sep - Sophia -7:30
20th sep - Andrews - 7:30
27th Sep - TATA -6:30
11th Oct - Sophia - 7:30
18th Oct - Andrews - 7:30
25th Oct - Sophia - 7:30
8th Nov - Sophia - 7:30
15th Nov - Andrews - 7:30
22nd Nov - Sophia - 7:30
6th Dec - Sophia - 7:30

---