Get a Party Hard Driver to drive you home!


Win Free Vouchers!!


| | |
| --- | --- |
| | |

Chat with Divya Palat - theatre actor and director
Divya Palat is a Hindi actress who has done cameo roles in many films such as Masti, Dhund, Kuch Na Kaho etc. She has also set up a Production Company, "Balancing Act Productions" that has produced several highly acclaimed plays including "The Verdict", "The Graduate" and "The Wizard of Oz"..

Your latest work:

Starring U & Me—a romantic comedy with Aditya and me! First time in 14 years that we're on stage together!

Your favourite work professional:

A tossup between 'Starring', 'Graduate' and '26/11' - true survivor stories on the Mumbai terror attacks!

What can we look forward in terms of your work?

Our plays travel nationally and internationally….some are new TV Projects and I'll be directing my first full fledged Hindi Film!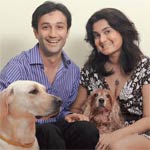 Moving to your Bombay-Blues!

Give Bombay 4 adjectives.

Alive, Ambitious, Creative, Electric.

What's your favourite memory of this city?

Nariyal Pani in the rains with hot bhutta!I always run out and get soaked during the first rains!

How would you spend an ideal weekend around Bombay? Or which is favourite retreat near Bombay?

Saturday morning walk with Cookie-my cocker spaniel on Marine drive…finish of any pending work and then Saturday movie and dinner…then out to go dancing at a party—wind up with coffee at Trats. A lazy Sunday morning…then a brunch followed by junk food teas—bhel etc and wind up with a family dinner!

Favourite retreat near Mumbai for a weekend –

Goa or Salt water Grill in pune !

What would you do to unwind after a busy day?

Catch a movie with Aditya at Phoenix!

The movie that cheers you up instantly would be?

No particular film…but a good romantic comedy or an episode of 24, The mentalist or Lie to me!INSTANT PICKUPS!

Your kind of music is?

Hindi film music, Hip Hop, some Pop, Retro, Elvis and Sinatra!

What are your favourite hangouts in Bombay?

Trattoria ! I'm there every second day.
Souk- at the Taj – MY FAVOURITE PLACE TO EAT!
Sea Lounge at the Taj!
Crosswords - there every day for coffee at some point!
Indigo Deli

Your favourite Food adda in Bombay is?

SOUK, SOUK, SOUK!!
Then of course TRATS!!
And Indigo Deli!

Your loved retail therapy outlet in this city would be?

Phoenix for knick-knacks!
Mango / FCUK for day wear

---