Get a Party Hard Driver to drive you home!


Win Free Vouchers!!


| | |
| --- | --- |
| | |

Interview with the comedian Kunal Kumar of Kal Kissne Dekha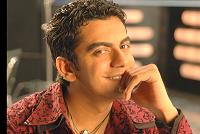 The name may not ring a bell about who he is, but if you look at him you are sure to recognize him. Of late, he is busy providing comic relief to people, with his funny act in Star One's The Great Indian Comedy Show. He has a number of TV shows to his credit -Bhabhi, Kkusum, Banda Jo Bindaas Hai, Ada, Hip Hip Hurray, Kumkum on Star Plus, Dono Milke Dus, Astitva, School Days, Shakalaka Boom Boom and Star Plus' Kahani Ghar Ghar Ki. Get a sneak peak into what this interesting comedian has to say about his venture.

Your latest work :Kal Kissne Dekha releasing on 12th june,2009

Your favourite work professional : John Abraham

What can we look forward in terms of your work?

Do Knot Disturb & Hook Ya Crook by David Dhavan,Zara Ji Ke Dikha by Barnali Shukla & Bachelors party by Ishaan trevedi..and also very soon I will be breaking my current image from being a comic actor to a serious actor..

Moving to your Bombay-Blues!

Give Bombay 4 adjectives.

Divine, magical, cosmopolitian & giving…

What's your favourite memory of this city.

I came to Bombay for a small visit in 1998,went to juhu beach & prayed "lord!pz call me ..i wanna live in mumbai"..& in 2000, mystically I got shifted here for good…

How would you spend an ideal weekend around Bombay? Or which is favourite retreat near Bombay?

Lonavala

What would you do to unwind after a busy day?

Reading selfhelp books..i just love them..

The movie that cheers you up instantly would be?

Majid majidi's "Children of heaven"…

Your kind of music is?

Instrumental..

What are your favourite hangouts in Bombay?

Jahangir art gallery,Prithvi theatre & Marriott.. Your favourite Food adda in Bombay is?

Chawala da Dhaba in Andheri..

Your loved retail therapy outlet in this city would be?

Landmark book store

For the readers of www.bestofbombay.com, spill some khopche ka secret about Bombay!

Do watch my movie and keep rocking!!!
---