Get a Party Hard Driver to drive you home!


Win Free Vouchers!!


| | |
| --- | --- |
| | |

Movie pick for the weekend!

Now that IPL is finally over, its time to hit the silver screen once again. To kick of this weekend, Angels & Demons, is finally finally releasing, and there finally is a movie release in ages. (Thank God for single-screen theaters).

But if religion and science is not your cup of tea, then my recommendations would be:

• Hairspray , a must watch for John Travolta fans. Travolta plays an adorable 'mom' (Edna Turnbald) from the 60's, dealing with a 'happy to be chubby' free-thinking daughter (Tracy)—played by the very talented singer and dancer Nick Bolnsky. In an age where black and white couldn't even share the same dance floor, the movie captures the battle of racism through a heartening love story and aspirations of a teenager. The all-star cast is completed by Christopher Walken who plays the dotting father and completely devoted husband. The soundtrack has to be the best in a long time, and combines jazz, rhythm and a complete 60's vibe. You will absolutely love the powerful performances of Queen Latifa and Zach Efron. This movie doesn't leave you with foot-tapping music—the sheer energy and passion that the cast brings, leaves you foot stomping (you will know what I mean when you get to the grand finale).

•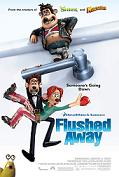 If animated movies are your thing, grab a copy of Flushed Away . The movie opens with a peek into the life of Roddy (voiced by Hugh Jackman), who's a rat living as a pet in the posh Kensington area of London. When Roddy gets flushed down the toilet by an insurgent gutter rat, he loses all the comfort and luxury he was used to, but eventually gains a lot more than what he bargained for. Down in the sewers, there exists a whole parallel London city, whose inhabitants are just rats. That's where he bumps into Rita (Kate Winslet), who agrees to take him back to the surface and his family, if he helps her on her mission. The adventure begins with the duo dealing with villains like Le Frog (Jean Reno, hilarious) and the Toad (Ian Mckellan). The story takes amazing twists and turns (in several cases, literally) and the goal is much much bigger than what the two intrepid daredevils ever imagined it to be. The soundtrack is awesome, and is interspersed with choruses from the cutest animated slugs. With a wire-tight storyline, great voice-overs, and in-your-face visual effects, this is great entertainment for any age group.

• And to wind up the weekend, if you like Russell Peters (or not) be sure to check out the fantastic entertainer, comedian, and world-class ventriloquist, Jeff Dunham . Catch his videos on YouTube—the views are in the millions. He starts each of his shows as a regular standup comedian, poking fun at his wife, his daughters, his dogs, and his cars. Once we've established what a family man he is, you get to see the little guys that made him so famous. His

repertoire of talking, irreverent and wholly hilarious puppets ranges from a redneck Bubba J, to a cantankerous senior citizen Walter, to a one-sneaker- purple-skinned fuzzy thing (for lack of a better word) called Peanut. The other guys that make up the pack are Jose Jalpeno (on a 'steek') and Achmed the dead terrorist—they're a hoot! Each of these fellows have their own personalities and Jeff Dunham is brilliant at taking situations from everyday life putting laugh-worthy twists on them.Nobody is spared from his barbs—George Bush and Michael Jackson are but the tip of the iceberg. Good luck on getting your hands on his must-own DVD: 'Spark of Insanity'.Do let me know if it needs any change.

And don't forget to stock up on a couple of bags of Kettlecorn. Happy watching!
---