Get a Party Hard Driver to drive you home!


Win Free Vouchers!!


| | |
| --- | --- |
| | |

Super cool DVD rentals this monsoon!
It's going to get raining men! And we'll be stuck indoors (unless we want to swim through the streets); thus one of most lazy and easy things to do to entertain ourselves is to order a movie, and let your eyes feast. Just to kill the gloomy feel of the gray skies, we list the funny boners to help you ROFL!



ჱ The Producers- a musical about two producers trying to make a flop production!
ჱ The Scary Movies- a spoof on the lame horror movies that are sometimes even funnier!
ჱ Rent the American 'The Office' Series or 'Dr.House', then try some tricks at work the next day! Just stay away from the person who has the power to fire you!
ჱ The Pink Panther –sans Aishwarya Rai (the first one with Beyonce and Steve Martin). the French accents and brilliant policing powers can make you spurt water out of your mouth!
ჱ If you want a stomach ache…call for Jaane Bhi DO Yaaron, Andaaz Apnaa Apnaa and Hera Pheri and Munna Bhai and watch them back to back!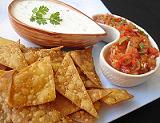 Other things to do around movies!

ACT II has done it's act, now we need new actors for our tummy when lounging on our couch. Try tortilla cups with salsa, corn bhel, Chicken Nuggets with cheese spread, chutni and pickle.

So enjoy the movie marathons in monsoons!

Also, when the monsoons have creeped you out, we'll give you a list of scary movies to give goosebums (goosebums x 500), so that the weather seems less of a villain!
---