Get a Party Hard Driver to drive you home!


Win Free Vouchers!!


| | |
| --- | --- |
| | |

Mizzle Beauty - Monsoon Fashion!
Be it a downpour or a drizzle everyone enjoys the monsoon. Sometimes you just love it and sometimes you just hate it. Well with the monsoon coming in lets gear up to welcome the shower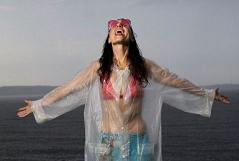 The hottest style this season is short skirts, Capri's, dungarees, sling tops, cargo pants, strappy rain sandals, colourful gum boots, trendy umbrella's and sexy transparent raincoats. Give all your jeans a rest as they tend to get very heavy when wet and take ages to dry! If you prefer Indian outfits then Salwaar Kameez is the best option.

Fabrics like blended cotton and polynylon are ideal for this season. Chiffon and crepe are out as they lose their sheen once they are wet. I prefer thicker fabric material as it will also keep you warm. My personal favorite for monsoon is capri pants/ shorts teamed with tank tops & a sexy transparent raincoat!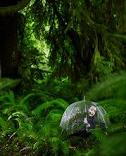 This season grab all the fashion accessories around you and let others fall for your creativity. Black is boring. Get neon pink or a transparent umbrella with delicate prints over it or a bright orange rain coat. Be bold and get noticed. Pick up a bright red or a tangy orange or a pineapple yellow or a strawberry pink umbrella and everyone will envy you. Go in for those PVC transparent sandals, strap sandals, rubber shoes which come in different colors and styles and gum boots. Black, ankle length gum boots look great with almost all western outfits. But if you are bold enough to experiment then try out red, green, blue or yellow ones.
br> Some designers are introducing a new Jungle look to their monsoon fashion collections by using bold colors such as olive green and dark beige. They combine these with the exotic look of animal prints for styles that are sure to be noticed. Fashion experts say that blue, green, indigo and white are the best picks for the monsoon fashion. Silk is also a popular choice for fabrics in this year's monsoon fashion collection for special occasions.

Goa-based Wendell Rodricks prefers to bring out the various hues of sea to dark bold colours of greenery in his collection for the season.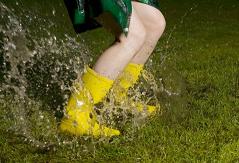 The dominant colors in Wendell's collection include blue, green, indigo and white. The fabric used is blended cotton. In contrast, leading designer Seema Roye has brought out Splash, an exclusive collection comprising six different segments, to welcome rains. Seema's collection consists of elegant beach wear, Indo-Western fusion and traditional Indian wear. Her palette is as wide as blue, peach, light copper and white. Palazzos teamed with tank tops are among the fusion wear and elegant zardozi work on satin mark the ethnic collection. Her fabrics include satin and net.

Celebrity designer Manish Malhotra feels that, "I think colors like blue, light purple, indigo, lemon yellow and white, which are a designer's favorite for summer also hold good for monsoon" He does not see the need to design separately for monsoon. Deepak Duggal who is into men's fashion in a big way, has designed special shirts for the monsoon. Says he, "it is important to use the right fabric during monsoon as there are certain fabrics which loose their sheen once wet. Hence, I import a special blend of rayon and cotton from Italy, which I use for most of my line for this season. The rayon ensures that the clothes do not cling to your body and cotton dries up fast so it is an ideal blend for this season."

After the sizzling summer, monsoon is the most appreciated season which brings along the bold fashion that mirror your personality and vibes. This is a season when fashion takes an altogether new turn that can be termed as romantic and dreamy; adventures and fun; laughter and friendship. The color of the season is shades of reds, blues, magentas, fluorescent pinks and acid greens. Thus monsoon is the spell to make bold fashion declaration.
---