Get a Party Hard Driver to drive you home!


Win Free Vouchers!!


| | |
| --- | --- |
| | |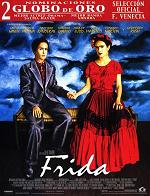 The film defines beauty in pain.
Defines struggle in bringing the best out of a person.
Defines sacrifice in gaining personal satisfaction.
Defines perseverance in achieving the impossible.
Defines sanity in taking the most incorrect steps in life.
Defines clarity in abstract expressions.
Defines personal happiness in making wrong decisions.
Defines tears in fame.
Frida, a true story of a famous Mexican painter cannot in any which way be perceived as a story of an individual rather its a story which every human being in someway or the other connects to. The struggle of a young disabled female in her career and personal life might seem like a case seldom seen, yet the manner in which the various phases are depicted follow a pattern in a way that can be applicable to everyone's life's. This sets the pulse of the film to an acceptable level with maintained fluctuations to grip the audience together.
The movie leaves a void in the viewer's heart enabling the mind to think and believe in destiny. Believe in the fact that everything no matter how bad it gets does and will always happen for a reason. Frida saw a lot of pain physical besides the mental trauma, yet it's only because of these unfair circumstances in her life that made those paintings such masterpieces. Frida's incorrect decisions in life, her immaturity at some stages, her rush on certain aspects, her innocence, her intelligence and her strength all combined together to turn her into a personality so rarely observed.
Considering the manner in which the movie is shot, it can be very clearly observed that external parameters in the movie have undoubtedly played one of the most important roles in shaping the movie correctly. But one most important point that should be mentioned is the fact that every color, texture, pattern and location used has been directly proportional to Frida's mood swings.
The last stage of the movie deserves a special mention for her expressions at that stage are painful yet pour hope. Hope of living just a little more. Hope of getting rid of the constant pain. Hope of smiling even when life has been so ruthless and pitiless. The aesthetic value of all this lies not just in the complexity of the character but also in the clarity of objects and pieces around the subject.
From aesthetics point of view, it is by far one of the most power work of art for every movement, emotion and character is so crystal clear in its definition that it forms a strong relationship between the character and every individual viewer. A winner all throughout.
---