Get a Party Hard Driver to drive you home!


Win Free Vouchers!!


| | |
| --- | --- |
| | |

The Tuborg Fun Starter Fest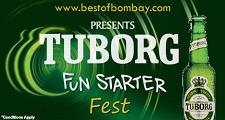 www.bestofbombay.com is proud to bring to all you beer guzzlers the first online beer fest Mumbai has ever seen - "The Tuborg Fun Starter Fest". Log on to www.bestofbombay.com to participate in this one of a kind drive and win loads of goodies all weekend. Did we mention, we're giving out loads of cases of Tuborg beer along with merchandise such as MP3 players, Speakers and Pen Drives and T-shirts everyday.

The fest will run between 24th and 28th April. So all you beer lovers go online to stock up on Tuborg for the following dry days. It's the big thing for this weekend so don't miss it.

All that you beer lovers need to do to win is share your best beer experiences, bar reviews, fun experiences, your best fun starter pictures or simply take part in our contests. We're having fun blogs, posts, articles and contests up especially for the fest. The more you participate the more are your chances of you winning. We're also giving out passes to the Tuborg Beer Crawl scheduled to be held on 8th and 9th of May 2009.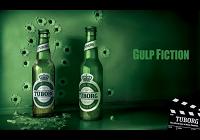 We're going to be announcing winners for all the prizes everyday, so do check back to see if you've won....

You can participate by,
Writing Reviews
Posting on our Blog
Entering The Tuborg Contest
Sending in your Fun Pictures
Sharing your experiences
Or simply Listing a Place you love

For all you creative geniuses who want to contribute by starting new blog posts or contributing to our editorial, just mail us at info@bestofbombay.com. If we like what you've sent, we've got a bunch of goodies that' ll be waiting just for you.

So if you're Open for Fun, log on to www.bestofbombay.com and come experience the Tuborg Fun Starter Fest!!


---





Rinku Kapoor (Fri, Apr 24 2009)

Nice BOB /Tuborg Rocks
Hey you guys rock wat a fun thing me n my friends are all going to write in and we would love to win the beer cases so u better give us some prize ;P

---





Jash Ashar (Tue, Apr 28 2009)

This is nice
"¸¨°º¤ø"¸¸"ø¤º°¨¸"ø¤º°¨ ¨°º¤ø"¸ BEER "ø¤º°¨copy and paste if ¸"ø¤º°¨ ROCKS!! ``°º¤ø"¸you are a beer fan ¸"ø¤º°¨¸"ø¤º°¨¨°º¤ø"¸¨°

---