Get a Party Hard Driver to drive you home!


Win Free Vouchers!!


| | |
| --- | --- |
| | |

Mocktail Special - Summer Time
It's summer time, say goodbye to Lemonade! No more iced tea! We're making mocktails to quench your thirst. Try out these recipes this summer....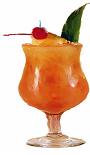 Down East Delight

2 oz cranberry juice
2 oz grapefruit juice
1/2 cup orange juice
1 oz honey to taste

Mix together and serve chilled.
Add a maraschino cherry, orange slice and grapefruit skewer for garnish.

Berry Sweetheart

3 oz red cranberry juice
3 oz apple juice
1 oz honey

Mix together and serve chilled.
Garnish with a maraschino cherry and a fresh mint leaf.

Virgin Mary

3 oz tomato juice
Tabasco sauce to taste
Celery salt to taste
Dash of Worcestershire sauce
Ground pepper
˝ oz lemon juice

Mix all of the ingredients together and serve cold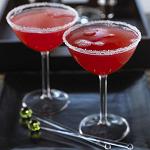 Watermelon Slush

6-8 ice cubes
2 cups seeded watermelon
Sugar or honey to taste

Place ice cubes in a blender, pulse until crushed.
Add the watermelon and honey, blend together until slushy (or smooth for a more cocktail feel)
Garnish with watermelon wedge and serve.

Cherry Fizz

˝ cup cherry juice from concentrate
˝ cup ginger ale

Fresh cherries and other fruits for a garnish
Mix ginger ale into the juice slowly in a blender, add ice if desired, serve in tall glass with fruit kabob.

Unfuzzy Navel

3 oz Peach Nectar
3 oz Orange Juice
3 oz Pineapple Juice
1 tsp. Lemon Juice

Dash of Grenadine
Combine in shaker half filled with ice.

Screwless Driver

1 1/2 oz Ginger Ale
5 oz Orange Juice

Mix and add ice.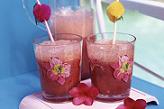 Virgin Strawberry Daiquiri

1/4 C. Strawberries
1 oz Orange Juice
1 oz Lime Juice
2 tsp. Sugar

Dash of Grenadine
Combine in blender with ice.

Quiet Passion

3 oz White Grape Juice
3 oz Grapefruit Juice
1 oz Passion Fruit Juice

Combine in shaker half filled with ice.

Tequila Meadow

2 oz Orange Juice
2 oz Pineapple Juice
1/2 oz Cranberry Juice
2 oz Lemon/Lime Soda
1/4 oz Grenadine

Combine everything but soda in shaker half filled with ice, strain into glass & add soda.

Chill out and have fun
---