Get a Party Hard Driver to drive you home!


Win Free Vouchers!!


| | |
| --- | --- |
| | |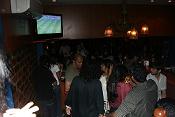 So recently Mumbai saw it's first organized pub crawl… long belated perhaps but quite the start!

An interesting concept really, spearheaded by a group that call themselves the www.bestofbombay.com taking on various initiatives such as art walks, bar crawls and so on. Mumbai could definitely use more of such social endeavours.

The bar crawl was held in South Bombay, in other words chose to explore drinking holes in South Mumbai marking the Saturday of the 21st of March for this valiant socially intoxicated march.

The concept was simple… everyone that chose to attend was charged a token amount of Rs. 500 which covered for a free welcome drink at the 4 clubs on the march, the explorer bus ride (open double decker ala sightseer buses) between the various bars and a PHD driver to cart their intoxicated selves to their respective homeward destinations. The social revelries were of course on the house… and with 75-80 people to boot, it was social revelry for certain!

And so it all began at Bootleggers… a little slow as the patrons slowly found their way about, figuring the free coupons to opening shots to just plain "is this really happening?"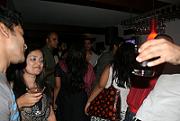 Next destination Busaba….. and a surge of people changing the face of a quaint little bar. Next thing we knew, bartenders are fumbling their orders just by sheer volume. The welcome drink began but they were definitely not the last for the place. The spill over lasting 50 metres out till the street with stranger becoming friends over the proverbial pint of bonhomie.

Strangely picking up 80 people to stop, exit and board their behinds on the bus seemed fairly effortless less than an hour later.

The explorer ride was quite something too… with smoke of social night, and raises pitches of dischordial harmony songs… the recipe was one of fun and liveliness. The only spoilsport was getting slapped in the face and several times at that. The culprit, overhanging trees playing with the passengers of an open top bus. All efforts to wrestle with branches(still early in the night, mind you!) seemed in vain and before we knew it…. There would be scream of duck and fore at every 10 minutes with dozens hitting the ground like a game of tag. The slow paid… with a leafy slap in the face or whack in the back of the bed and would gladly accept it with a smile on their face. Obviously the alcohol was kicking in!

The rest of the night began to get blurry. With the clinking of ice in whiskey, flirtatious smiles, several drags of the demon cigarettes and loud loud karaoke at Soul fry…. Several were aptly crooning, or croaking "show me the way to the next whiskey bar". The rest of the lines of that song was paraphrased miserably of course. And rest assured with a glass in their hand, an arm around a stranger… discussions ranged from soccer to bollywood to where the next drink at.

And the blur continued. The last offical stop – Red light… quite apt despite the cliché!

But picture abhi baaki hai mere dost!

You take Mumbai as the setting, 80 drunk people suddenly best friends, a cart-load of alcohol and a sense of spirit(s)… there's always more.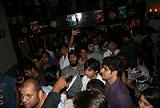 The after party. Various places across Mumbai bore the brunt, and quite willingly I'm sure. Strangely I didn't see a single person drunk to the point of filth. I didn't witness a single fight and even more strangely and admirably it seemed everyone seemed to have a good time.

Happy endings were on the cards, numbers were thrown around, and parties spilled over into the suburbs.

The bar crawl was far from a crawl… it had a pace, a social drinker's pace, easy to keep up as long as there is a drink in your hand and a smile on your lips.

Sigh… all this talk and I'm thirsty…

Show me the way to the next whiskey bar… oh don't ask why… oh don't ask why!

---





Merlin Edward (Thu, Apr 23 2009)

Mumbai's First bar crawl
How to book for bar crawl. Is there any contact no to join this???

---





Ravi Prabhakar (Sat, May 23 2009)


hey jst wann knw hw 2 b d part of this bar crawl ...plz ...leme knw..wld love to join it......

---





FARZANA MODY (Sat, Jun 20 2009)


would like to know more please...a contact number would be great

---