Get a Party Hard Driver to drive you home!


Win Free Vouchers!!


| | |
| --- | --- |
| | |

Source: partyharddrivers.com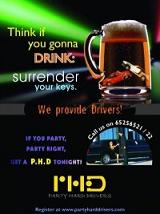 After the stern action belted for drinking and driving by the police, party goers are now skeptical of partying. Regular party animals who drive after drinking get busted by the cops,this was followed by large amounts of fine and a jail term had become serious deterrents for people who want to have a good time. This led to drop in alcohol sales as people got reluctant to drive back home after drinking.

Well, now you need not worry about drinking and driving...three young men, Ankur, Saurabh and Mishal came together to form a unique service called Party Hard Drivers. They are Bombay's premier night driver service providers. They provide service to party goers, young executives or anybody who plans to go out drinking and needs to be driven home safely.

The drivers are sophisticated, well mannered and most importantly well trained and safe. The part goers are assured of reaching home safely.

For more detail look up at http://partyharddrivers.com.

For reservations and inquiries call on 022 6525 6521 / 022 6525 6522

Preferably call them before 9 pm for best service and
availability.They take orders till 11pm

So get ready to party!

Party hard drivers are there to drop you home safely!


---