Get a Party Hard Driver to drive you home!


Win Free Vouchers!!


| | |
| --- | --- |
| | |

Classic Rock it's a genre of rock which was conceived as a radio station programming format. It started of in the 1980's when radio stations specialized in playing music of the 60's and 70's this was classic rock. It is the predecessor to the modern hard rock and different forms of metal, be it thrash, progressive, power or industrial metal.

That bands which fall into this genre are: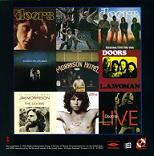 The Doors: One of the few American bands, Jim Morrison is one of the pioneers of classic rock, with music that has spanned ages and songs that have become legends on its on this is one band that led the "flower power" in the 60's and 70's. Roadhouse Blues one of their most famous songs has also been remixed by Snoop Dog and Light my Fire and Break on through have had unbelievable radio coverage.



The Who: One of the most innovative bands they had the most famous trio belting out songs like, My Generation, Behind Blue Eyes , So sad about us, and many more. They were an inspiration for Iron Maiden, The Sex Pistols, modern day Oasis and Limp Bizkit who has remixed most of their songs, the contribution of this band to the genre of rock is invaluable. They in-fact made the platform Led Zeppelin and Deep Purple could step on to.


Deep Purple: Another British band they were once listed in the Guinness Book of World Records as one of the loudest bands ever. Featuring "Smoke on the Water" on of the most popular songs ever this band has introduced solos and were the pioneers of metal and hard rock. Their distinctive drumming patterns were a hit all over the world and they are one of the longest and the hardest touring bands ever continuing till 2007 only splitting for a brief period before reuniting.




AC/DC: An Australian band have the record of the highest selling rock album ever called Back in Black considered pioneers of heavy metal and hard rock they have been churning records for the past 3 decades, when they do decide to go they are going to leave a legacy of songs behind. Be it Hells Bell or Highway to Hell, Thunderstruck to For those about to Rock this is one of the best classic rock bands ever.


Led Zeppelin: A British band that went on to revolutionize world music, the band that has incorporated different instruments, styles and infused it with rock. With heavy guitar driven sounds and distinctive solos they started a different genre of music all together. They were a band that didn't need to name their albums and were sold as Led Zeppelin 1, 2,3,4. And with songs like "Stairway to Heaven" regarded as the finest solo's ever, "Whole Lotta Love", "Black Dog", "Kashmir" a song with very eastern music theme, in their kitty this is a band that will not be forgotten.




Pink Floyd: From one British band to another this is one of the bands that have influenced world music to a great extent. A band that has made their live performances a must see, a band that introduced Psychedelic Rock to the entire world. Pink Floyd is known for their live performances and through the changes brought new and fresh ideas to the shows, using rotating boards initially to multi-million dollar lasers in the latter. This band is know for their classics like, "Comfortably Numb", "Coming Back to life", "High Hopes" and more.


Jimi Hendrix: The father of distortion and an idol for The Who and others , Jimi Hendrix was the one who popularized the wah-wah pedal and has thus helped create most of the melodies and solos we hear nowadays. He is also one of the 3 J's of and has also suffered a drug related death, in the end he is also one of the best when it came to creating a whole new kind of music. With songs like "Purple Haze", "Voodoo Child", "Machine Gun" he has a place cemented in the history of rock.

---