Get a Party Hard Driver to drive you home!


Win Free Vouchers!!


| | |
| --- | --- |
| | |

Holi in Mathura Vrindavan
Source: theholidayspot.com, mapsofindia.com

Holi is celebrated with colour and water throughout India. It is generally celebrated in spring during the Indian month of 'Phagun' (Full Moon Day). In north India, Holi is also termed as 'Basant Utsav' (spring festival).

Holi in Mathura is celebrated in memory of Lord Krishna and Radha. Lord Krishna was born in Mathura and was brought up in Vrindavan. According the folk, Lord Krishna used to envy Radha, who was fair complexioned while he himself was dark. He complained to his mother (Yashoda), who then suggested to smear Radha with whatever colour he desired.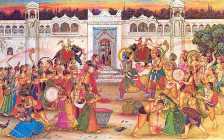 Each day Holi is celebrated in a different temple. Along with Mathura, Holi is celebrated with zeal in Vrindavan, Banaras, Gulal-Kund' in Braj and Bake-Vihari Temple in Vrindavan, which is considered significant in Hinduism.

People from all corners of India and the world gather at Mathura-Vrindavan every year to feel the essence of Holi in the land of Krishna. People relive the legends of Holi associated with Radha and Krishna and play pranks the young Krishna played with the cowgirls called gopis.

The underlying feeling of this fun-frolic was love and devotion. Even today, romance can be experienced in the very atmosphere in the Krishna-nagri. The colours of Holi are simply a facade on this.
---