Get a Party Hard Driver to drive you home!


Win Free Vouchers!!


| | |
| --- | --- |
| | |

Go Bold with Bright Colours this season!!
Author: Tanvi Desai
Source: indiatimes.com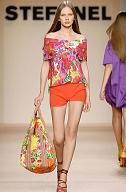 Colourful, bubble-gum type of garments that make you giddy and happy are sure to be in style this summer. With Holi (Indian festival) evoking the spirit of celebration with rich and vibrant colours, one must definitely go bold and blunt this season with traffic-stopping colours that make you turn around! Be it clothes, shoes, accessories,even make-up, the brighter you are, the more noticed you will be.....

Most of us love wearing blacks and white as they are timeless and evergreen colours. However bright & bold colours rule this week. Shocking pink, red, yellow and orange are some of the common colours you would like to pick on.

One must try 'Mix and match' fashion mantra. If the clothes are bright (pink, for example), then the accessories should be of the same colour gamma. One can also team up garments with a combination of bright and contrast dull shades. However, if one is not comfortable wearing bright colours, then I would advise you to incorporate nice, bold & bright accessories in your wardrobe. Like teaming shocking red stillettos with black dress. Simple but yet so chic!

According to Falguni Peacock "Summer is usually about whites and beiges. But this season, it's oranges and yellows that are in big time, along with different shades of other bright colours. The range of colours add variety to your wardrobe".



You can also dazzle up with bright make - up. Electric blues, golden & silver hues, pinks and purples, turquoise greens, shimmer and shine, yes, these colours will surely make your eyes look attractive! Red, orange lipsticks are surely lipaliscious to turn on your date. Weird nailpaints are actually cool, provided you have the spunk to carry it ! Shocking pink, red, golden are best picks for this season.

Go brighten up your mood and your wardrobe with colourful selection of bold buys!
---