Get a Party Hard Driver to drive you home!


Win Free Vouchers!!


| | |
| --- | --- |
| | |

Chat with Chef Oriana Tirabassi !
Author: Tanvi Desai
Source: As said by Chef Oriana Tirabassi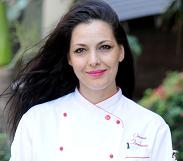 In 1994, she was ranked #1 at the Pizza World Championship -- the first female chef to achieve the title in Las Vegas, USA. Im talking of none other than Chef Oriana Tirabassi !!! Currently, she is the chef de cuisine at Mezzo Mezzo, JW Marriott, Mumbai. Let's get a sneak peak into what this interesting chef has to say about her skills and her experience in Bombay.

What inspired you to become a chef?

I studied art and graphics whilst at college, working on design for graphic publicity, but was persuaded by my family to go into the restaurant business, which is where I bought my art to the table

What's your food philosophy?

Traditional base but coupled with creativity along with a touch of magic and passion

What do you look for in a recipe?

Sometimes I think about my grandmother and her memories of the kitchen and then I add my personal touch. Understanding my clients taste and preparing dishes as per their palate.

What are the challenges in this market? How do you cope up with them?

I just try my best in understanding my client's likes and dislikes and cater to their taste accordingly.

Describe Bombay in few words.

Bombay is a great place and the people are very warm and helpful.

What are your favorite hangouts in Mumbai?

Still waiting to discover as very busy at the hotel

How would you spend an ideal weekend?

Dine out in typical local restaurants and dance the night away with my friends

What would you do to unwind yourself from the busy work schedule?

Enjoy the temperature of Mumbai and the sun ... lying by the pool with a good book

Which are your favourite movies?

Slumdog Millionaire and from International film I like watching action and dramatic films, my favorite being " The Green Mile" staring Tom Hanks

What kind of music do you like to hear?

Jazz music for relaxation or new age, hip hop and Barbara Streisand is one of my favorites.

On a personal note, I love to cook and wondered if you could recommend a good, but a simple book on food presentation?

Call me when you want and I will teach you the basic principal.There are many cookbooks, but it is difficult to learn from books, I would recommend the book Stefano Baiocco, "Mise en place".

Anything else you would like to share with the readers of bestofbombay.com?

Yes, there is' something that I would say to all:
When you choose to eat at an Italian restaurant, relax and call the chef and explain to him what ingredients you like, do not change the recipe by adding ingredients that are not appropriate to enjoy an Italian recipe. So you learn to love the Italian cuisine like I have learned to love the Indian cuisine.

Go indulge yourself into the scrumptious pizzas prepared by Chef Oriana Tirabassi!!
---