Get a Party Hard Driver to drive you home!


Win Free Vouchers!!


| | |
| --- | --- |
| | |

Source: Liquers One to one
Only true connoisseurs probably understand the importance of stocking good liqueur in their home bars. It's quite cool actually. Liqueurs were traditionally made my monks. Yes monks. During many centuries the Egyptians, the Greeks and the Arabs improved the process of steeping and distilling, their affair was continued by monks and chemists of the Middle Age. Since the XI century in many catholic monasteries in Europe they have treated the sick by means of mixtures and elixirs. As many remedies were bitter they add into it honey. The first liqueurs appeared which were called then "elixirs" and made by monks from different medical, spicy and aromatic plants.

Each liqueur has its own author, inventor in the world of liqueurs. We never know who was the first to distill vodka or whisky, but all liqueurs have its author, place and date of the creation. Amazingly, although the liqueur was a French concoction, it found its way quite well to the shores of Italy. Italy's given the world a host amazing liqueurs. Presenting our guide to what you probably should get your hands if ever in the city.

Grappa: Italy's Elixir

Grappa is a uniquely Italian drink. Traditionally, made from pomace, the discarded grape seeds, stalks, and stems that are a by-product of the winemaking process, Grappa has been around since the Middle Ages. For generations, Italians have sipped this "firewater" after meals and even added a little to their morning espresso, to "correct" it. Once considered an acquired taste, popular only in Italy, Grappa, today, is making itself known around the world. Distilleries from Australia to Oregon, as well as Italy, are trying their hand at making Grappa, with surprisingly good results.

Amaro Fernet Branca

There is no formal definition of amaro, but all drinks bearing that name are made from neutral spirits (vodka, basically) infused with some mix of herbs, spices, roots, and rinds, and they are traditionally consumed after a meal as a digestivo. Amaro is a drink of extremes. The loose category of Italian liquors includes everything from Fernet-Branca—that inky, medicinal-tasting liqueur to Averna, a sweet tipple with notes of orange rind and ginger, and undertones of coffee, chocolate, and caramel. It's either sipped after a meal or "shot" as an end-of-evening closer. It's either loved or hated.
The love-hate dichotomy is usually attributed to Fernet-Branca, which has in the last few years become a fashionable drink in places like San Francisco and New York. Some of the most sophisticated drinkers I know cannot live without it, yet other connoisseurs call it garbage.




Campari

The history of Campari began in Novara, Italy, in 1860, with the invention by Gaspare Campari of the recipe that is still in use today. The recipe is kept confidential; according to Gruppo Campari, the Chairman, Luca Garavoglia, with the help of the technical director and eight employees, produces the base concentrate. Garavoglia is the only person in the world who knows the entire formula for the original family recipe. However, among the ingredients are quinine and other bitter herbs, rhubarb, spices, ginseng, bergamot oil, and orange peel. It is known that the colour came from natural Carmine Cochineal E120, but the Gruppo Campari in many countries has shifted to an artificial colorant.[citation needed] One of the main ingredients is bark from Cascarilla trees that grow in the Bahamas.


Ameretto:

The name is a diminutive of the Italian amaro, meaning "bitter", indicating the distinctive flavour lent by the mandorla amara--the bitter almond or the drupe kernel. However, the bitterness is not unpalatable, and the flavour is enhanced by sweeteners, and sometimes sweet almonds, in the final products. Therefore, the liqueur's name can be said to describe the taste as "a little bitter".
In 1525, a Saronno church commissioned artist Leonardo Da Vinci and student Bernardino Luini to paint their sanctuary with frescoes. As the church was dedicated to the Virgin Mary, Luini needed to depict the Madonna, but was in need of a model. He found his inspiration in a young widowed innkeeper, who became his model and (in most versions) lover. Out of gratitude and affection, the woman wished to give him a gift. Her simple means did not permit much, so she steeped apricot kernels in brandy and presented the resulting concoction to a touched Luini.


Mezzaluna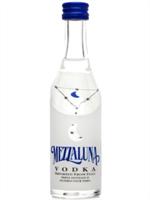 Italian vodka? Sure, why not! The Italians make Zone flavored vodkas, which we've rated highly. And now there's Mezzaluna. Rather than use a cheap neutral spirit and distill it a zillion times into something very smooth and tasteless, Mezzaluna is made from Semolina grain, which gives it a flavor like no other vodka. Oh sure, it's smooth, thanks to triple distillation and quaduple filtering, but the flavor is something else- grain, nutty chocolate then lemon.


Sambuca:
Sambuca is an anise-flavored liqueur, produced by the infusion of witch elder bush and licorice, sweetened with sugar and enhanced with a secret combination of herbs and spices. White Sambuca is the traditional and generally the more popular variety, having a mellower licorice taste and lighter body than that of black sambuca.
The most popular brand of Sambuca and the most renown is Sambuca Molinari, but Sambuca Romana works fine too. It is served as digestive, or, with the addition of water, as a long (and refreshing) drink. If you order this in Italy, you will typically see 3 coffee beans floating in it, (called Sambuca con la mosca - Sambuca with the fly) signifying health, happiness and prosperity. "Three" is very often symbolic for many reasons, but also because odd numbers are considered luckier than even ones.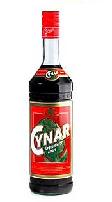 Cynar:
Cynar is an Italian bitter apéritif liqueur made from 13 herbs and plants. Most predominant among these is, unusually, the artichoke (Cynara scolymus), from which the drink derives its name. Cynar is dark brown in color, has a bittersweet flavor, and its strength is 33 proof (16.5% alcohol).
Cynar can be drunk as either an aperitif (generally over ice), or as a cocktail (mixed with soda water and lemon or orange slice, or with cola, tonic water, or bitter lemon soda). Europeans often mix it with orange juice. Because of its artichoke component, Cynar is also regarded as a digestive.

---