Get a Party Hard Driver to drive you home!


Win Free Vouchers!!


| | |
| --- | --- |
| | |

Most of the movies are filmed on Hollywood sets or in front of green screens with animations. However, there's nothing that can quite compare with a stunning - and real - Italy backdrop. On the other hand, some movies depict Roman epics and romance ....Here are few of them.

Julius Ceasor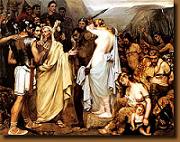 In Julius Caesar, we see a brief picture of Roman life during the time of the First Triumvirate. In this snap shot, we see many unfortunate things. Shakespeare gives us the idea that many people try to circumvent what the future holds, such as unfortunate things, by being superstitious. Superstition seems to play a role in the basic daily life of most Roman citizens. During this time, infertile females are supposed to be able to procreate, and fertile ones are supposed to be able to bear more. It is also a supposed time of sexual glorification and happiness. Other scenes depict how throughout Rome, roaming the streets are mysterious sooth-sayers, who are supposedly given the power to predict the future. Dictating what is to come through terse tidbits, these people may also be looked upon as superstitious. Although sooth-sayers are looked upon by many as insane out of touch lower classmen, a good deal of them, obviously including the sayer Caesar encountered, are indeed right on the mark. Since they lack any formal office or shop, and they predict forthcomings without fee, one can see quite easily why citizens would distrust their predictions. Superstition, in general elements such as the Feast of Lupercal, as well as on a personal level such as with the sooth-sayers, is an important factor in determining the events and the outcome of Julius Caesar, a significant force throughout the movie.
After Caesar's assasination at the hand of Brutus, Cassius, and the rest of the conspirators, Brutus and Cassius are chased into the country side, where we see a few superstitious signs of their forthcoming painful death in battle. In a dream, Brutus sees Caesar's "ghost", interpreted as an omen of his defeat. He also looks upon the ensign, and instead of the usual stock of eagles, ravens and kites replace them, construed as another sign of their loss at Phillipi. Not surprisingly, Caesar's death is avenged in the end, with the two of the conspirators' double suicide. As superstition is inter-twined within the basis of the entire movie, we can reasonably conclude that it is because of this irrational belief of why certain events occur and how to avoid them, that Caesar is retired and eventually avenged.

Under the Tuscan Sun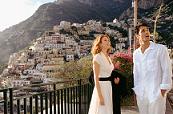 In the movie, the woman starts her life over with a new home in a new land in this romantic comedy drama. Frances is a writer in her mid-'30s who feels emotionally derailed after her divorce. Unhappy and unable to write, gets confused what to do with life. Thereafter, her best friend, Patti decides she needs some time away from her problems. With that in mind, Patti gives Frances a ticket for a two-week tour of the Tuscany region of Italy; while there, Frances finds a dilapidated old villa. Charmed by the warmth, beauty, and charm of the small town of Cortona, Frances impulsively decides to buy the villa, thinking she can fix it up herself. The home proves to be more of a handyman's special than she imagined, but as she slowly gets the hang of household maintenance, Italian style, Frances develops a new confidence as she makes friends with her neighbors and finds love with a handsome local named Marcello. The movie, Under the Tuscan Sun is loosely adapted from the memoir by Frances Mayes, who in reality remained happily married during her sojourn in Tuscany.
The name itself suggests that the film was shot in Italy. There are lots of Italian settings in the film, including Florence, Arezzo, Montepulciano, and Cortona in Tuscany and Postiano and Salerno in Campania. It's Arezzo where the medieval flag-waving demonstration was done, and Montepulciano where the wedding took place. The city of Cortona then became the city's popular tourist destination.

The Italian Job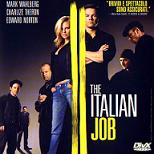 The Italian Job stars Mark Wahlberg as Charlie, the mastermind of a daring Venice heist overseen by John (Donald Sutherland), a lifelong criminal who plans to retire from the fold with the earnings from his most recent take. Basking in the glow of a job well done at a secluded retreat in the Alps, the thieves -- including the aptly-named Handsome Rob (Jason Statham), tech-geek Lyle (Seth Green), and hearing-impaired quipster Left Ear (Mos Def) -- are ruthlessly double-crossed by one of their own, the taciturn, calculating Steve Frezelli (Edward Norton). Time passes and each member of the group finds himself pursuing other opportunities in the States, until Charlie rallies them together for a revenge-motivated scheme designed to bilk Steve of all his misbegotten earnings. In order to cinch the deal, he even enlists John's reluctant safecracking-prodigy daughter, Stella (Charlize Theron), for an elaborate, incognito Los Angeles heist. But the paranoid Steve proves himself to be one step ahead of them at just about every turn, and Charlie finds that he'll have to make some daring last-minute changes to their plan if the team is to succeed.

Watch it the Roman way !!!!!
---