Get a Party Hard Driver to drive you home!


Win Free Vouchers!!


| | |
| --- | --- |
| | |

Author: Rishabh Kachchhy
Source: Business Today, www.crushedgrapesltd.com, www.napanow.com
Far away from California, Around 180 kilometres north-east from Mumbai, is the region soon becoming India's wine capital. Nashik, popularly known for the Kumbh Mela, is soon turning into the 'Grape City' or Napa Valley of India. It has what French wine makers refer to as 'terroir' - a group of lands from a certain region, belonging to a specific vineyard, and sharing the same type of soil and weather conditions, which contribute to give its specific personality to the wine. The wine virtually makes itself, for many varieties it is not even necessary to add acid or sugar.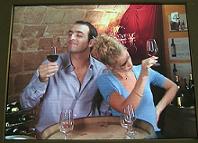 With the oncoming of winter comes another phenomenon in the life of a wine maker, Grape crushing. October onwards spells out the most lucrative time for wine makers with the beginning of the grape harvest. Most wine makers though wait through more than a month just to increase the sugar content on the grapes before harvesting them. With more than 15,000 square kms covered by these vineyards, you can imagine the amount of wine to be produced.

Black grapes are used for making red wine and greens ones for the sparkling or white wine. Wineries want to get the grapes to crush, where the grapes are not "smashed" but "gently split" so that the juice starts to flow, as quickly as possible. Great pains are taken to escalate the process, while keeping the grapes from becoming too warm during the transport from vineyard to the crusher. Wine making is a science now. Its known as Oenology. The fermentation, settling and aging that follows has to be done delicately, and scientifically to ensure wine makers get the best quality and best tasting wines.


Traditionally, in smaller size wineries, lighter weighted women would gently step on the grapes in a vat, allowing the juices to flow out from small openings in the bottom. We hear that only the prettiest women with the softest, most tender feet were chosen for these tasks. No wonder the wine from then tastes so good! Funnily grape crushing is now become an activity of sorts, done at parties or other social gatherings. Vats are kept filled with the grapes and numerous people just get in and begin stomping. The juice is not used obviously, (imagine sipping wine if u knew that the grape it came from was crushed under the feet of your socialite neighbor!!!!) but it all forms a great thing to do at a dull formal do.


Next week we look at busting some Myths we've been hearing for decades about wine.


---