Get a Party Hard Driver to drive you home!


Win Free Vouchers!!


| | |
| --- | --- |
| | |

Author: Francesca Mascarenhas
Source: wikipedia.org, lakmefashionweek.com

By definition, Obi is a Japanese word referring to several different types of sashes worn with kimono by both men and women.

Obi are the top-most sash worn with various styles of Japanese clothing; several other sashes may be worn under the obi to secure the clothing in place and/or to enhance the shape of the body or of the uppermost sash.
Only now the obi has strayed a long way from home. A new and fashionable way to wear your belt or sash, the obi has been fused with many western outfits.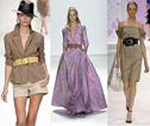 In the Lakme Fashion Week 2007, a very distinct use of traditional Japanese fashion is evident in many designer's collections. It maybe borrowed from the ramps more to our west than our east (geographically), however they've still left an impression on our market's young buyers.


For example, Designer Sonam Dubal scored points with his blending of Indian shapes like the angarakha with a zuave pants or a Honju kimono with plain gold sequined pants, embellished cape with a kaftan worn with a gold Obi belt and a black flute wrap dress with a pleated over wrap, trousers with pleating or in high slit wrap versions.

Kaushie Adiseshan, here was a totally prêt collection in satin and silk in just two silhouettes—the kimono tunic and the baby doll top.

The obi and other Japanese influence was also seen in collections by Rahul and Firdos and noticeably in Priyadarshani Rao's line as well.

Not yet available at your favourite store in Lokhandwala or on Linking road, the obi is still fresh in fashion this season, though with our weather its not likely you'll see kimono clad 'fashionistas' strutting the streets sporting bold and accessorized obis or even in desi-adapted (kimono-like) kaftans, there are however, many innovative ways to wear a tailor-made obi.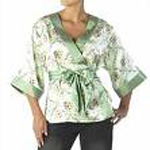 The obi sash should be fastened right below your ribs which may also help accentuate your upper body and distract that excess holiday weight your carrying from last season!






Wear them on Kurtas or Shirts that you can team with jeans, or tops that have wide necks that can sometimes be worn off-shoulders. If you still enjoy wearing tights, pick out one of your slim fitted dresses that you can wear over tights and accessorize with a nice bright coloured obi.







Remember if you've chosen a printed fabric or a piece of embroidered fabric for your obi team it up with self colours according to your preference, it is summer so earthy colours in the night and pastel shades for the day are easiest to wear.

Of course since you'll be wearing this in Bombay and not Japan I'm not sure if a guy can carry it off, however metrosexual you may be, and even if your wardrobe has lots of floral prints and pinks.

From the pictures attached I presume that most of you will know how to wear one, even if its not with the traditional knots!



Obviously the OBI is here to stay, so be sure to be seen in one, sooner than later!
---