Get a Party Hard Driver to drive you home!


Win Free Vouchers!!


| | |
| --- | --- |
| | |

Iron Maiden in India-2007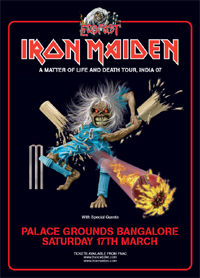 Nous Productions and DNA Networks are very proud to announce that Iron Maiden will for the first time in their career perform their legendary stage show live in India.

The event has been confirmed for Saturday 17th March at the 20,000 capacity Palace Grounds in Bangalore where the band will play right in front of the palace.

Iron Maiden's new album, A Matter of Life And Death' reached number 2 in the Indian album charts after debuting at number 4. To our knowledge, this is the highest chart position in India ever for any rock act. Iron Maiden are also the first major heavy metal band to perform in India and will be the first to bring in their full massive western style stage production, so it promises to be a very special occasion. The band are air freighting in almost 20 tons of backline equipment and special stage Production for this one show.

Says singer Bruce Dickinson "To say we're all really looking forward to coming to Bangalore soon is something of an understatement. It's very special to us to be able play to new fans in countries we've never been to before, and we hear the Indian fans are very loud and into their metal. The whole trip will be an exciting adventure for us and we intend to enjoy every moment there. The fans should know that we are bringing the whole stage show we used in Europe and America and that Eddie will definitely be joining us! We are crafting a special set to include both songs from A Matter of Life and Death and a load of other favorites. It promises to be an absolutely amazing atmosphere playing outdoors in front of the palace and we much look forward to seeing you all in March"

A spokesman from DNA Networks explained "As this is the first show ever in India to feature 3 supports acts in addition to an international headliner, it will be a very special occasion. As the setting is a beautiful open site in the palace grounds we thought the occasion should be marked with a special name and as such we are calling the event 'Edd-Fest' and are confident that 'Edd-Fest' will encourage more european bands in the future to join us and play here in India.

Also appearing on the Edd-Fest bill is Britain's Lauren Harris, who opened for Maiden throughout the European and Japanese legs of their world tour. We are expecting Lauren to receive a lot of interest, and a female fronted rock band has never been seen before in India. Also included is Indian Rock band Parikrama, and the band to be announced the winner of India's Rock Idol contest. This is the first time that any domestic Indian rock act has had the opportunity to open for an international artist of Iron Maiden's stature".

Tickets for the show will go on sale shortly.

The new Iron maiden Album "A Matter Of Life and Death" and the entire Iron Maiden Catalogue has been released in India by EMI and is available at all key Music stores in the country.
---