Get a Party Hard Driver to drive you home!


Win Free Vouchers!!


| | |
| --- | --- |
| | |

Author: Francesca Mascarenhas

In keeping with the theme of the week it was apt to interview Bombay's best chefs and get their stake on cheese.

We got a whiff of what keeps us wining and dining all the time, keeping us away from our kitchens at home. Cheese has become a very versatile ingredient that has found its way through every course of our meal, be it soup or salad right through to dessert. And so with such a flamboyant personality, cheese seems to be the most favored ingredient today!

'New Kid On The Block', AURUS the latest addition to Fine Dining in the city and hardly amateur in their services offers its patrons cuisine from the world over. Their menu, however, has been partial to Italian food and hence the use of Cheese is evident. Chef Vikas Seth predominantly uses cheese in most of his preparations, if you've dined at Aurus you'll know exactly what I'm talking about. From the teasers to the appetizers through to the main course, you'll enjoy the flavor of cheese that may sometimes be just a hint or a lot more. Chef Vikas says that the cheese in the 'Camembert Chicken swirl in Jalapenos' is what makes all the difference. They use mostly imported cheese from specific suppliers, however he seems to think that a large variety of cheese is available at The BBC (Bombay Baking Company) at J W Marriott, The gourmet shop at The Grand Hyatt and at supermarkets like Foodland in Juhu and Fortune Food.

At Aurus, the chef recommends the 'Black Pepper Smoked Cheese with Chicken, Pakchoy and Mushroom'. As a lover of cheese himself he didn't feel it was fair to put a name to his most favoured preparation with cheese. Also because they work with different types of cheese every month, like last month was Mascarpone, this month it is Goat Cheese, which he recommends goes well with the Vegetarian fare especially the 'Pesto Asparagus with Basil'. And so we can't blame him if his preferences change every time he creates something new.

At OUT OF THE BLUE the most sort after item on the menu is their Fondue, and of course cheese is the main ingredient, so interviewing Chef Vinod was a must. Their Fondue is made of different cheese, one is the 'Regular Fondue' that uses Cheddar and Emmental and the other uses Gruyere and Emmental, needless to say that the latter is the better choice. Their Beer Cheese Fondue is a one of its kind on the menu where they use beer instead of dry white wine enhanced with flavors of garlic, black pepper and oregano.

In their wide selection of pastas, their 4 cheese pasta is most tempting; here they use different imported cheese like Gorgonzola, Parmesan, Mozzarella, Emmental, Gruyere. Only Cheddar and Processed Cheddar is available locally. Apart from their Fondue and Pasta, at Out Of The Blue you can enjoy cheese in their mouth watering Bruschettas and their Stuffed Mushrooms.

POT POURRI the little joint around the corner of Turner Road in Bandra dishes out some great continental cuisine, and so it is not uncommon to find cheese all over the menu. According to Chef /Partner of Pot Pourri, Nitin Tandon, seems to agree that cheese has been able to adapt itself into most cuisines. Predominantly used in Italian and French cuisine cheese has found its way into our very own Indian cuisine as paneer the desi name for cottage cheese. Paneer as you know takes up the major portion of a vegetarian's plate and is served in different forms be it curried or dry. So this otherwise Foreign ingredient has set up shop in our local cuisine.

At Pot Pourri however the 'Nachos with Monterey Jack' is a must-have. Cheese like Gruyere, Emmental, Mozzarella, Philadelphia Cream Cheese, Monterey Jack has to be imported whereas the local cheddars are readily available. The 'Chicken n Cheese' and the 'Lasagne' are also delicious so next time you drop by you know what you need to order to get your dose of cheese for the day.

Off the record, Chef Nitin's favourite cheese is Boursin on crusty corn bread, just thinking of corn and cheese together is whetting my appetite. They also undertake banquets where they serve a variety of cheese to go with your glass of wine. If you're lucky to be invited to one of those events keep your eye open for the blue cheese dip!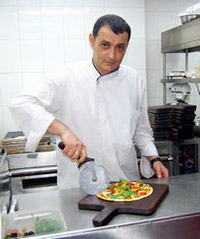 Now most of us would like to think that we know how Mozzarella cheese tastes, but according to Chef Max of OLIVE we haven't got a clue. What we've been exposed to is a much saltier version than what it is supposed to be. Olive prepares its own cheese from goat's milk which is probably why their 'Tiramisu' is far more superior from its like. Of course while at Olive if you need something to accompany your lonely glass of white wine then the 'Mozzarella plain cheese pizzas' are just an order away. The lightness of the crust and the flavor of the cheese will help you elevate much higher than the usual spirits of the house.

Those were just a few Bytes from Bombay's Best, now if this article didn't get you hungry with strong urges for cheese then I'm sorry to inform you that you're probably dead inside… 'coz you don't need to be a food lover to experience urges like these. So go ahead and indulge, though if you're watching your waistline, then maybe you should just taste! I know that's criminal to even suggest, but it is better than having nothing at all and to have to read me raving about it.

Bon Appetit!

---