Get a Party Hard Driver to drive you home!


Win Free Vouchers!!


| | |
| --- | --- |
| | |

Author: Ameesha Lathia
Source: www.about.com
Its party season and as usual we're all hunting for that perfect dress! A dress that automatically transforms us from mere mortals to sexy goddesses. A dress that makes everyone turn their heads, but not all of us have the figures that celebs work so hard to get, and we really are happy with what we have, so here is a guide that helps you look for that perfect dress according to your body type.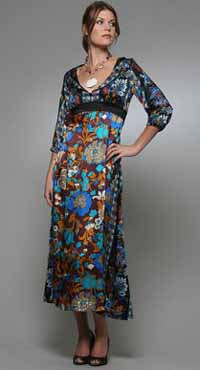 Too Thin (yes there is such a thing and believe me I know!):
If you're body lacks natural curves, add feminine presence with a bright color and bold pattern. Extra details like full sleeves and a ruched waist add volume. Avoid clingy fabrics or bare styles that show off sharp hip or collar bones. Also always remember to pair it with some cute accessories such as peep-toe sandals or a cool necklace, but keep it simple!

Petite:
Take the sophisticated route with a petite figure by avoiding cutesy styles (like puffed sleeves) so you'll look fabulous. Face-enhancing details such as great earrings or a necklace, add to the flattery. Go with a material that has presence; velvet or plaid tafetta do the trick.

Wide Shoulders:
You don't need to hide your upper body if you have wide shoulders, instead look for oversized details. Avoid puffy sleeves or voluminous tops paired with slim bottoms that will exaggerate your shoulder width.

Plus Sizes:
If your figure has too many curves, opt for a simple dress that adds sleekness and maximum flattery. Use the empire waistline which is very in this season to lift up the waistline. Black is a great choice for looking thinner, and a longer-length slightly flared hemline adds to the svelte look.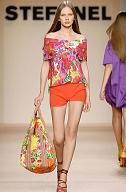 Big Hip and Thighs(Classic Indian Woman Problem!):
The easiest way to balance a bottom-heavy figure is to choose a dress that skims over the lower half of the body. Choose a non-clingy fabric and a daring neckline to show off the face, shoulders and bust. Try to draw attention up to the waist and away from hips and thighs.

Full Bust:
Balance a top-heavy figure by opting for the most flattering neckline for the full bust: the V-neck or plunging neckline. Look for fabrics that skim, but aren't clingy or too stiff. Also, avoid ornate necklines, embellished bodices and blouson styles.

Small Bust:
Most clothing actually hangs better on women with smaller busts, but if you want to add more volume up top look for embellishment or ruffles on the bodice.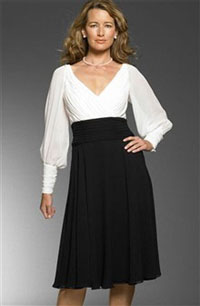 Flabby Arms:
You don't have to look aunty-ish when trying to cover up your arms. You can do it in a sexy way too! The trick is to use a sexy element like maybe a sheer sleeve. Or you can wrap on a shawl or use a bolero or shrug.

Okay, this are just a few of the tips I could give you, but remember you are the best judge of what suits you and you feel comfortable in. Also remember to add the right accessories and to keep it simple! I hope you look ravishing and have a blast at your party!

---