Get a Party Hard Driver to drive you home!


Win Free Vouchers!!


| | |
| --- | --- |
| | |

Author: Ameesha Lathia
Source: www.about.com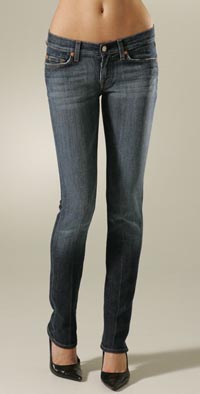 Everyone knows that jeans are an absolute essential in any wardrobe and I know a million girls would be thanking the inventor of the ever so popular fabric...denim! Whether the jeans are skinny or boot cut, every girl has her favourite pair of denims. The denims which once worn seemingly brandish a magic wand and smooth away all the parts that you want to hide! But everyone needs a change now and then and here are a few hot trends that have hit the denim scene and you can keep in mind the next time you wear your favourite denims.

Firstly, this season if you buy denims think skinny, dark wash, vintage and the very cute mini skirt. Skinny jeans are back with a bang and for the trendy girl in you, skinny jeans are ideal. They're tough, they're racy, and they're very eye-catching. However to ensure that skinny-leg jeans don't only look great on models and celebrities, but on real women too, you need follow a few guidelines: The most slimming look comes from skinny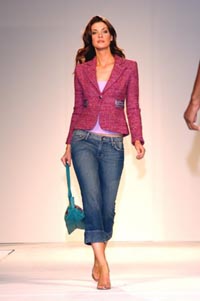 jeans in a dark blue or black wash. You don't have to go with skin-tight jeans to get the look of the trend: jeans vary from super-skinny (usually about a 10" leg opening) to a kinder, straight-leg cut (about 14" leg opening).

One of the key elements for pulling off skinny jeans is to balance it with volume on top including dolman-sleeve tops, bell-sleeve tops or tunics. Disguise heavy thighs by wearing a longer, belted tunic over skinny jeans. Cover up thick calves by tucking skinny jeans into tall boots. Wear heels with skinny jeans for a leg-lengthening look; pointy-toed flats also work.

Super dark jeans -- in a dark blue rinse or light black -- are not only dressier, they make you look skinnier (and that's always a good thing). Wear these like you would wear your normal jeans and dress it up or dress it down! Holes,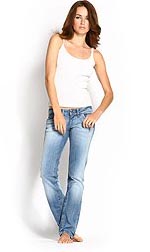 bleached spots and frayed edges: they're a good thing! Yes vintage jeans are actually new just made to look old. And you know how in they are when the style queen herself, Malaika Arora Khan wears them. But remember that your jeans need to be paired with a simple top, and not something very jazzy, so as to not look that you have too much going on. If you want to go for the biker chic look, think of teaming the jeans with a leather jacket and a camisole.

The cutest layered look of the season comes from leggings layered under a miniskirt. You already know how in leggings are and paired with a denim mini skirt they look absolutely adorable and completely chic.

Spice up your jeans by teaming them up with a silky camisole that has a rich jewel tone and embellishment. The new, longer camisoles often feature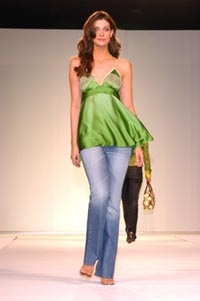 ribbons, lace and a draping, uneven hem. You can also wear the very cool and figure friendly tunic with your fav denims. Use your denims to help you layer; for example, put a teensy shrug over a longer top over lean jeans. We know it's hot, but maybe for a new look, team your jeans with a fitted and cropped blazer.

Now for an easy makeover, try folding the cuff of your straight leg denims and wear them with boots, ballet flats or embellished high heel sandals.

Every fashionita knows her accessories, so team up your belt with your denims and sling it low over your hips.

If you're talking about fashion, you can't ignore black, yup, all you need to do to reinvent your denims is add a black top, or jacket, or shrug to it.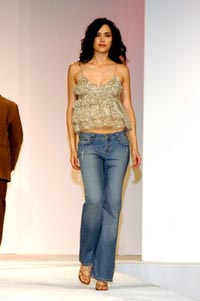 To indulge the girl in you, use a top with tiers or a touch of ruffles to your jeans and lastly, add something unexpected like a belt that looks like a little skirt or a short dress layered over jeans. Other interesting mixes include using a tie or a long scarf for a belt.

Simple and easy isn't it to refresh the denims in your cupboard and all I want to say now is Viva Denim!
---