Get a Party Hard Driver to drive you home!


Win Free Vouchers!!


| | |
| --- | --- |
| | |

Author: Ameesha Lathia
Source: www.about.com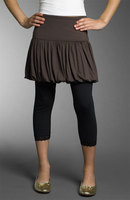 Its time for the latest autumn/winter fashion trends to hit the fashion scene and though we can't really follow those trends in the hot humid weather of our great city, yours truly yet scanned all the latest trends to get you one that you can follow. Hold your breath for leggings! Yes, people, leggings have been 'in' for quite a while with the likes of Nicole Ritchie, Sienna Miller, Mary-Kate Olsen, Amrita Arora, Shilpa Shetty wearing them. Leggings are so convenient and look so cool!

Essentially the length of the leggings should be capri length which has to be mid-calf or should be just below the knee. You could wear it till the ankle as well but full footed leggings and stirrup styles are a big no-no!



The hot favourite colours this season seem to be monochromatic colours sticking mostly with neutrals such as black, grey, beige and white. Though if you do buy leggings in colours like hot pink or with a print on them make sure you pair with a slightly toned down outfit. For interest, lace trimmed leggings are stylish as are leggings with touches of sparkle in the fabric or other fun features.

Layering leggings under tunics and dresses is the hottest trend out there. Black tights paired with everything from slit-to-there evening gowns in bright prints to floaty dresses. It's a youthful look (and so much easier to carry off than either bare legs or patterned hose). Leggings worn under skirts and dresses are a cute way to add a funky touch; slim leggings in place of pants with a jacket are a sexy new look to try for fall. Leggings and skirts are truly a dynamic duo. If you have qualms about showing off your stems, add a pair of leggings in to the mix. Leggings enable skin-shy women to pull off skirts of all lengths. Choose a color that coordinates with your top, and keep in mind that dark colors are always more flattering.

Peeking out from a sturdy shirtdress, tights add an extra layer of style, often in the form of a pattern or color. When it comes to sun dresses and other breezy numbers, take caution: most flirty frocks are just too light for tights. A good rule of thumb is that if the dress demands heels, stick to bare legs. On the other hand, flats and sandals work, leggings will too. If you want your tights can take the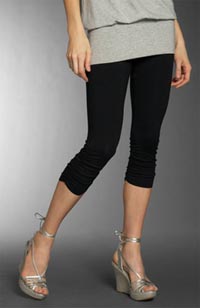 spotlight, pair them with a tunic. Standard tees and tanks simply won't work unless you're a model or an aerobics instructor–make sure your top hem touches your upper thigh, and you're good to go.

High heels tend to look very "retro dance queen" teamed with tights. Opt for ballet flats, skimmers, moccasins, wedges and slides. With stylish flats, you can pull off tights with casual ease.

So basically you can wear leggings with your mini, dresses, tunics and flats. This trend is here to stay so don't wait any longer to pick up a pair which is available at any of your favourite local shops but here are a few names of shops where it is available: Outfits Etc., Boy London, Guess.
---