Get a Party Hard Driver to drive you home!


Win Free Vouchers!!


| | |
| --- | --- |
| | |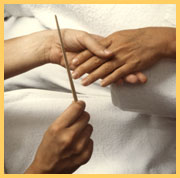 In today's competitive world it's becoming very important to keep yourself groomed and presentable. Be it in the workplace or on a night out, it's very essential to make a good impression. Your handshake or namaste greeting is the first thing noticed about you , so what kind of impression will dry/dirty fingernails leave? It's time to let your hands do the talking...

A manicure is a cosmetic beauty treatment for the fingernails and hands enjoyed by both sexes. A manicure can treat just the hands, just the nails, or both. You can go in for a standard manicure usually including filing and shaping of the nails, removal of dead skin and cuticles and the application of polish.(for women).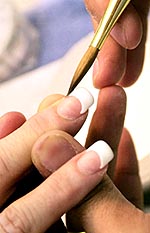 If you want to bend towards the trendy, you can opt for the French Manicure, which is similar to the standard one, only the nails are filed in a squarish shape, the tips are coated in white, and a transparent base and varnish is applied to complete this elegant and stylish look.

If you want to indulge in a more creative experience, go in for acrylic or gel nails (these are fake nails seamlessly blended on yours to give you strong and shapely nails). These make an ideal canvas for the nail artist to create a unique and special look just for you. You can design everything on your nails from a delicate flower to funky animal prints. You can even go wild by piercing a nail or attaching jewel art studs or even Bindis

The occasion or your mood can also be captured on your nails. For a wedding, go for a light pink shade with a delicate diamante design, depict your crazy side by painting your nails an electric blue, with a peacock feather pattern.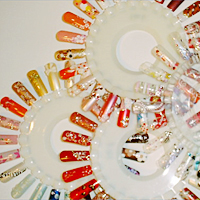 Nail Manicures plus Nail Art usually costs anything between Rs 500 to Rs 1000. But if you don't want to burn a hole in your pocket, given below is a simple 10 minute manicure for both men and women to achieve neat, strong and shiny nails.

Step 1: Prep cuticles. Swipe a bit of cuticle oil across the base of each nail, being sure to cover the entire cuticle. The oil will condition your cuticle and nail, and soften the cuticle so it's easier to push back. More on that later

Step 2: Trim nails. Use your nail clipper to gently trim your nails to a length you like (anything over 1/4 inch past your fingertip is too long). Try to cut your nails straight across; doing so will allow you to custom-shape them with your file.

Step 3: File nails. Choose a shape you like, either square or oval. Manicure experts suggest that your nail tip's shape should mirror the curve of your cuticle (that is, if your cuticles go straight across your nail bed, your tip should be squared; if your cuticles are softly rounded, your tip should be oval). But let your style preference be your primary guide. Don't worry about filing nails in one direction only; do, however, avoid filing into the sides of your nails, which will make them weak and prone to breaking.

Step 4: Push back cuticles. By now the cuticle oil you applied earlier will have softened your cuticles, which makes them ready to be pushed back. (Why push them back, you ask? Because by removing any cuticle skin clinging to the nail, your nail naturally looks longer and more elegant.) To push back cuticles, place the wooden stick flat against your nail and gently push toward your finger. The key word here is gentle, as pushing too hard can cause trauma to your nail or pull the cuticle away from the nail plate, opening it to infection. If your cuticle skin is stubborn, don't fight it; leave it for your next manicure.

Step 5: Buff away. For those of you who don't have the time or patience to polish, buffing is the perfect fix. Begin by swiping the roughest side of your buffer across each nail; this smoothes away ridges and discoloration. Next, take the second roughest surface, and swipe it over each nail. This further smoothes any roughness left behind by the first surface. Finally, swipe the smooth side over each nail until it shines.

Step 6: Wash hands, and voila! You've got great nails!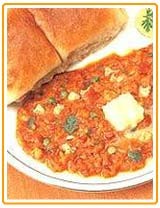 If your nails are not as long and strong as you wanted, you can buy fake nails and stick them on your own. The arty type can also try and experiment with the nail art themselves or simply go to a professional for that part and save some moolah. The world is your array, so choose your pick, experiment and have a blast!







---