Get a Party Hard Driver to drive you home!


Win Free Vouchers!!


| | |
| --- | --- |
| | |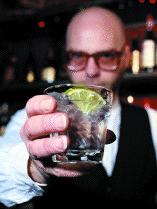 Contradictory to popular practice, drinking is not about getting drunk, it's more about enjoying it. How in the world is that!, you might ask. Apparently the more you know about the science of drinks, the more you will enjoy it!. So how many would know the difference between Scotch, Whisky & Bourbon Whisky? or even maybe the different styles of drinking? (I didn't even know there were different styles of drinking!). As a bartender you would know all this and much more about making others enjoy their drink.

This philosophy works behind the relatively lesser thought in the direction of the profession of Bar and Beverage management. Bartending today is an increasingly popular career option for many. The School of Bar and Beverage Management say that all you need is interest in the job the rest will be taken care of. (I wonder if all those neat tricks will just be 'taken care of'). The neat tricks actually need a lot of practice. Many many broken bottles later you will master the art of carelessly but artfully flinging bottles around. This only adds to the pleasure of drinking and making drinks. Bartending could be taken up as a long-term career option or even as a part time job, the ingredients are simple. A dash of passion stirred with fun and served on a rich bed of currency and your all sorted.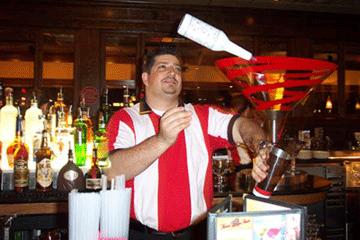 In India, there are two ways for becoming a professional bartender - One through an F&B (Food and Beverage) specialization after a competition-oriented Hotel Management course. Two, by joining the School of Bar and Beverage Management. Either way you will go through rigorous training to tune your taste buds and sharpen your skills to make the perfect drink. Unlike a couple of years back, where the criterion to be a bartender was irrelevantly a graduation degree. And being trained on the job by your seniors. On a tangent freelance bartending is the in-thing today. Freelancing in private or corporate parties is becoming increasingly popular because every host likes to have a person behind his/her bar, handling it professionally. You have to market yourself through wedding planners, pubs and bars, event management companies and catering hotels to create your space in freelance bartending.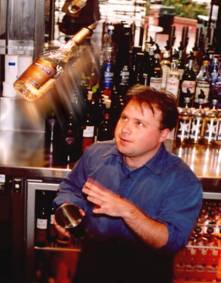 To be a professional bartender, there are some basics that are a must. In-depth knowledge of beverages; such as the history of a beverage, its origin, production, and new and old trends, different styles of drinking every beverage, their tendering, the art of bartending, how to make a heady cocktail, the right blends, perfection in making, presenting and tasting cocktails. And that's just one part of it. Then there is this entirely different story of duty on bar management which entails knowing technicalities of a bar, controlling a beverage, controlling the bar and promotion of a beverage.

Bartending and Bar and beverage management are not only about serving beverages to customers. It's about making the customer experience and experiment with other options as well. Thus, the promotion of a beverage is a whole other task that a bar manager has to take up. For promotion a bar manager has a couple of tricks up his sleeve. Like organizing a cocktail festival, and announcing prizes. This way his customers taste the beverage and probably will ask for it another time. In India, over the past five years, the beverage industry has undergone a drastic change. This change has not just shown face in the field of beverage marketing but also in bars and pubs mushrooming and consumer mindsets changing to a great extent. The wave of female bartenders is still a fresh concept for many in India. With the recent discussions of female bartenders in Delhi and their sisterhood in Bombay is quite a hustle. While in demand in Bombay quite the opposite happened in Delhi. A female bartender is definitely a prettier sight behind the bar and women are more patient and more pleasant to deal with. Although some are paranoid about the safety of these women. I'm sure a Bombay girl can take care of herself and besides she's much safer on that side of the bar anyway.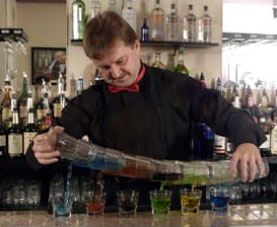 The parameters for bartending are on a whole new and ever evolving level as of now. The demands are higher and the selection is more stringent. Like any other field the more talented and more experienced have a better chance at mixing drinks professionally. So if this social skill is your thing start practicing today. Besides having fun you'll learn a hell of a lot in the way.
---