Get a Party Hard Driver to drive you home!


Win Free Vouchers!!


| | |
| --- | --- |
| | |

Author: Francesca Mascarenhas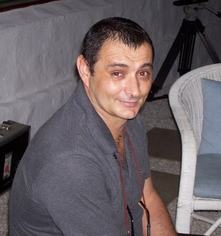 Chef Massimiliano Orlati (aka Chef Max) is the new Head Chef and Chef de Cuisine at Olive, Mumbai. He is also the Senior Italian Chef for Olive in Mumbai, Delhi & Bangalore. He is an Italian by origin and is a linguist. He has done a Chef Qualification course from the Pellegrino Artusi Hotel College, Ravenna; a Chinese and garnish decoration course from London; an Ice carving course from London and a Diploma from the pastry school in Rimini, Italy (specialized in chocolate work).

He has been working since the year 1975. From the year 2000 – 2001, he was the Executive chef at the Hotel "Residence" in Tunisia, a 5 star luxury hotel with 170 rooms and a thalasso spa. Over here he was responsible for fine dining at the Mediterranean-Italian restaurant, Olivier. He also used to train the kitchen staff here and worked on the development of the new menus and food costing.

From the year 2001 – 2003, he was the Executive Chef at the Radisson Hotel in Mauritius and from 2003 – 2004 he had worked as the Italian Chef for the Taj group. He was also in charge of design and development of the new concept restaurant, Mint at the Taj West End, Bangalore.

Ever since, the Olive bar & kitchen has opened in Bombay, it has been known for its food and ambience. Like every year, Olive changes its menu seasonally and has elements & strong influences from both the Mediterranean and the Continent. As always, Olive has paid constant attention on the food. This July the Olive bar & kitchen brings down an experienced foreigner chef who will give Olive's esteemed clients yet another international culinary experience.
Introducing Chef Max...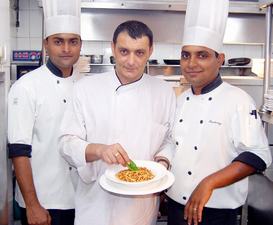 That extract was out of a 'Press Release' I received from a PR Company a few days ago. Still bitter from the remark about our website, that was published in a very popular mid-afternoon local newspaper, that stated how some sections on the site resembled a PR agent's press release. So i took the liberty and 'copy- pasted' the relevant stuff, so that you can distinguish for yourself.

Happy to be in Bombay, Chef Max has officially moved base from Bangalore, where he spent the last 3 years of his life. Having lived at various exotic destinations over the years, he seems eager to soak up the Bombay culture, stating that the city is vibrant and so dynamic. Unlike most Bombayites the bad roads and crazy traffic situations don't bother him too much, having lived in Bangalore for so long, he learnt a new definition to a 'traffic jam'.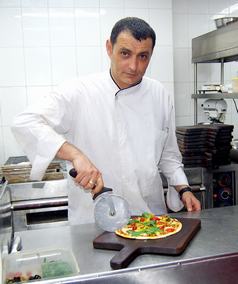 The Lifestyle here resembles that of Rio De Janeiro, where the people work on a 23 hour clock- he explains, where you work hard all day, party all night, and sleep for an hour. I couldn't agree more!

Don't you think we've had enough of new Italian menus doing their rounds in the city... well apparently not! Just as most of us Indians think we know how Mozzarella Cheese tastes, we don't have a clue of how its supposed to taste. What we've been exposed to is a saltier version of the same. At Olive, they make their own cheese! 6 years in the city and i can bet that most of you didn't know that about this RestoLounge. Italian Cuisine like many other cuisines fail to stay true to their origins. Every Restaurant has to cater to the general palate of the region and hence may sometimes compromise on the authenticity of the dish.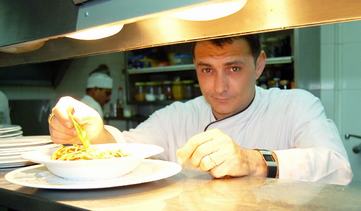 But thats not what Max's New Menu will have to offer. Its going to be the real thing- plainly put! However he will be creating a Vegetarian menu as well, even though where he comes from 'Meat' reigns.

His all new 'Mediterranean Classical Menu' will be fairly balanced between the Veggies and the Non. He knows he's going to have to raid the markets as Indians wont sit quiet if they are served with a plate of leaves. There's going to be a 'Specials of the Day' everyday which will vary on the availability of the ingredients. So you can be guaranteed quality dining that Olive is famous for.

This health conscious Chef won't compromise on the size of his meals but will condemn you if your addicted to those vile aerated drinks. A glass of wine continues to be the best accompaniment to your meal wherever you may be. Olive will also be introducing a New Wine Menu shortly.

Lover of the 'Biryani', Chef Max enjoys his food on the spicy side and hence adores Indian cuisine. He says that Risotto could just as well be the 'Mediterranean Biryani'. Don't know how true that is, but I would opt for a traditional biryani anyday.

Did you know that the Tiramisu at Olive is as close to the authentically created Tiramisu as it can get. With them making their own cheese and all, what did you expect? The deserts at Olive will henceforth be made only with Lindt Chocolate and in my opinion will be irresistable. Chocolate Temptation for the figure conscious of the city. Do as they do in Italy... taste everything, deny yourself nothing, and live happily ever after.

Full of enthusiasm as the new menu is nearing completion, Chef Max has alot in store for us. A word of advice to you, from me- Trust the Chef!

P.S. If you know where Goat's Milk is available in Bombay- Please let us know, just email us at feedback@bestofbombay.com. Chef Max and BestofBombay will be very grateful.
---