Get a Party Hard Driver to drive you home!


Win Free Vouchers!!


| | |
| --- | --- |
| | |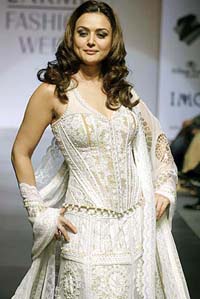 Remember the days when you used to associate lace and crochet with your grandma or your mom? Well, if you're a self-confessed fashionita, you'll know that those days are gone! If Manish Malhotra's all-white and black lace and crochet collection isn't enough to convince you, you can also check out the international fashion scene where this look is simply scorching the runways!

Still thinking or wondering how something that ancient is back in fashion? Well it is and the look is simply hot! Lace and crochet are completely feminine and add that little girly touch to your wardrobe; think Victorian times, where lace and crochet were very much in vogue as well. If your still not convinced of its potential as the new 'in' thing then try and think of what's more sweetly romantic than a touch of crochet or lace?

LACE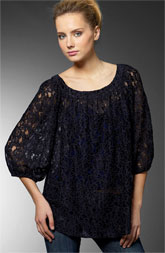 Lace has this amazing sensual appeal, with it being a mysterious fabric that plays a peek-a-boo game (wink)! It's best to remember that lace is sexiest in neutrals and pastels -- white, ivory, black, baby pink, sky blue but however tends to look cheap in brighter colors. Keep a singlet, tube top or a bikini top (if you have the figure!) at hand, if you plan to wear lace, because baring too much is a big no-no and lets be honest very trashy!You need to leave something to the imagination.

Think ethereal lace empire-line tops and dresses or even the adorable little lace shrugs! Your lace doesn't need to look girly, if teamed with the right bottom, you can carry a very modern daring style. It goes best with denim. You can also wear your lacy attire with slightly loose pants, as the best lace generally fits your body like skin.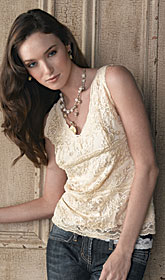 But if you still cant digest that much lace, go for something that has lace trimmings or if you want to be even more subtle, get lace singlets and wear them inside a top instead of a normal singlet, however be sure that the rest of your outfit is sober or you may end up looking like a bouquet.

You don't need to go and buy an entirely new lace outfit; you could also incorporate lace into your wardrobe by getting lace strips and attaching them to the singlet straps or neck, or maybe even on the sleeves and hem of a top or your old jeans- be adventurous, but minimal.Lace teamed with pearls look amazing and maybe you can make a funky belt using lace, pearls and fake flowers!



CROCHET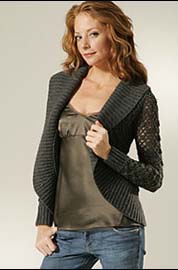 Crochet is all about the weave! If its bold and broad, you can be daring enough to show some skin, but if its thinner and more revealing then please- parental guidance is preferred.(Ha Ha Ha!)Crochet can look lovely in a variety of colours and styles. You don't necessarily have to have a crochet top; you can get crochet patches and sew them onto your denims or even put them on your very plain shoes and spice them up! Crochet reminds you of the 60's, but move the hippie-image out of your head 'coz it's no more! Crochet now defines feminity and a very sexy look! (Think of Manish Malhotra and Surily Goel!)

You don't have to go head-to-toe lace to get the look for yourself. Add a cardigan in crochet over a delicate dress or pair a lace-trimmed white blouse with jeans. Mixing crochet and lace with more tailored pieces keep the look from being too sugary.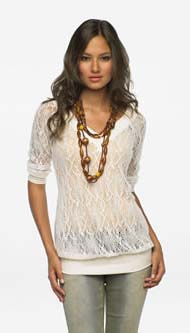 You can always accessorize your lace and crochet look, but make sure that you don't have too much bling-bling on or you'll simply take away from the look! Use big necklaces, funky bangles, cool belts and handbags like a clutch to spice up your look!

If you want to don the grease paint, I suggest that you keep it light, using pink eye shadow or even silver or bronze and nude glossy lips with mascara and kajal. Give your hair that romantic look with slight waves and maybe even a flower in your hair!

Think just how easy finding a perfect outfit for that special date just became! You can just add lace or crochet to the outfit to make it a tiny bit girly and voila you're ready for your date!

And if you still doubt my take on this new craze and feel like you dont want to invest too much in it, then why dont you raid your mothers cupboard, better yet, see if you can find your grandma's old stuff...I'm sure you will atleast be able to accessorize with their help, if nothing else!

---





Neetha ***** (Wed, May 6 2009)

Lace!
I just love laces, i feel tat an amazing story can be woven in lace!!!

---