Get a Party Hard Driver to drive you home!


Win Free Vouchers!!


| | |
| --- | --- |
| | |

Author: Ameesha Lathia
Source: www.spain.info,www.barcelona.com,www.wikipedia.com,www.andorra.ad
Every year I go down on bended knees to pray to the 'Vacation Gods' to let me have a perfect vacation. You know hassels of tickets and visas and bookings etc that nothing go wrong. Let me have a holiday worry free; fit for a princess! Well this year, I think they got tired of my nagging and finally gave in. I visited Spain and Andorra. If heaven is a place on earth then its most definitely here.

Spain is the largest of the three sovereign nations that make up the Iberian Peninsula—the others are Portugal and Andorra—located in Southern Europe. Andorra is a small, landlocked principality in south-western Europe, located in the eastern Pyrenees mountains which is bordered by France and Spain. It is also known as the Switzerland of Spain.

Marbella (mar-bey-yah) in the province of Malaga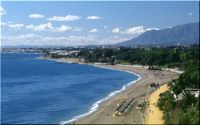 was our first stop for a bit of sun and sand. You have to get off at the Malaga airport and then take a taxi or hire a car to Marbella or you could request for a hotel pick-up (charge will be as applicable by the hotel). I would recommend you hire a car as it is cheaper and easier than traveling in a taxi and you can get a richer experience of the place.

Marbella has excellent climate, beaches, natural surroundings and major sports complexes. From Cabopino to Guadalmina, Marbella offers the visitor 26 kilometres of beautiful coastline with a succession of sun-drenched beaches equipped with all kinds of services, which include modern hotels, residential complexes, shops and restaurants. The beaches of San Pedro de Alcántara, a major population centre less than ten kilometres from Marbella, are a fine example of the balance struck between nature and tourist development. Sports lovers will be in paradise in Marbella. A dozen magnificent courses allow the golfer to play the sport before the unusual backdrop provided by the sea and the mountains. There are also three marinas for water sport-lovers as well riding schools and tennis clubs.

The historic part of town, sitting on a beautiful bay, shelters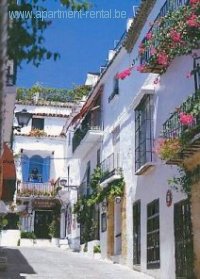 lovely corners of a typically Andalusian flavour, with whitewashed houses and orange trees adorning the streets and squares. An ideal setting for sampling any one of the tasty recipes of the local cuisine. In the small church square you will find the Greater Church of La Encarnación, built in the 16th century. In this same setting stands one of the two towers which formed part of the city's old Arab fortress, from the 9th century. Testimony to the city's Roman origins are the many archaeological sites to be found in the area, outstanding among which are the Paleochristian Basilica of Vega Del Mar, the Roman baths of Guadalmina or the Roman villa of Río Verde.

The Spanish Contemporary Engraving Museum is considered to be the most important of its kind in Spain. Situated in the Hospital Bazán (16th century), it houses an interesting collection of engravings from the 19th and 20th centuries, with works by grand masters of the stature of Picasso, Miró or Dalí.

Its beautidul by day and even more so by night fall! At night, you can sit under the starry sky and enjoy a bit of paella and a glass of wine or maybe in the day enjoy a cup of coffee while strolling into small boutiques.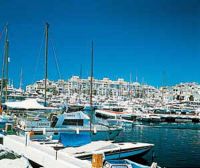 If you want to indulge in some retail therapy Puerto Banús, is the place to be. Known as the playground of the rich and famous, it houses international designers and brands and each year, the marina, plays host to some of the biggest and most luxurious yachts in the world. Visiting Puerto Banús is a must!

A short drive away is the town of Mijas. It is a traditional mountain village harmoniously combined into a tourist complex. The whitewashed street of historic quarter, Arab in layout and nestling in the mountain landscape, houses some buildings of interest, among them some churches and hermitages. The houses are quaint and fit the common image of a small village. To take a walk across the village is a splendid way to spend an evening along the gorgeous coast line and hiking lovers can enjoy numerous rural paths which run inland through pine groves and around peaks. The cuisine of this town can't be missed, and when your here look out for Aroma Kitchen. Did you know they have 32 kinds of hot chocolate!

You can also drive to the city of Granada. The Alhambra, a famous Moorish citadel and palace, is in Granada. It is the most remarkable item of the Muslim, Jewish, and Christian historical legacy that makes Granada a hot spot among cultural and tourist cities in Spain. The nightlife is noted to be the best in Spain.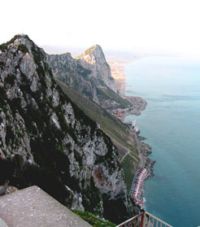 If you have a valid British visa, you must visit Gibraltar. The Gibraltar strait links the Atlantic Ocean and Mediterranean Sea and is between Europe and Africa. Gibraltar is named as one of the Pillars of Hercules, after the legend of the creation of the Straits of Gibraltar. You can visit tunnels used during the World War, see the St. Micheal's Cave which is supposed to be bottomless thus leading to the theory that it is linked to Africa. You can also see the Lady Europe, Medieval Castle or Lime Kiln's. You can take a cable car to the highest point of the rock and the view from up there is breath taking! (on a clear day you can see the coast of Africa) A must do in Gibraltar is the Dolphin Safari. Its so exciting to see dolphins jumping out of the water in their natural surroundings instead of water parks and other such places. Looking at them play about without a worry in the world makes you almost want to jump in with them.

You can sight see all you want but remember you are in a coastal area, so please take time to relax and soak up some sun either by the pool side or on the beach!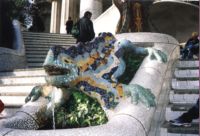 Our next stop is Barcelona. Barcelona, the capital of Catalonia, is a cosmopolitan Mediterranean city that has incorporated in its urban street pattern Roman remains, medieval districts and the most beautiful examples of Modernism and 20th century avant-garde art. There is no need to hire a car in Barcelona as the public transport system is good and more accessible. You can take a tour around on a hop-on hop-off bus. Enough information is available at the airport enquiry counter regarding ways of sight seeing. As there is a lot to see in Barcelona, you must plan a little ahead.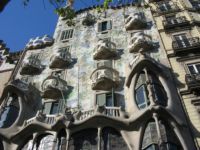 Architects such as Gaudí, Doménech i Montaner or Puig i Cadafalch relied on the help of master craftsmen to fill the streets of Barcelona with fantasy. Works by Gaudí, such as Park Güell, the Palau Güell, and Casa Milà "La Pedrera", as well as Doménech i Montaner's Palau de la Música Catalana, and the Sant Pau Hospital have been declared World Heritage Sites by UNESCO. The temple of the Sagrada Familia (the Holy Family) which is the only cathedral in the world under construction and is built with the money coming in through donations and visitors has become a symbol that defines the spirit of the city of Barcelona.

The church, Passeig De Garcia, and Casa Batlló are just a few of the many modernist gems treasured by the city. The Picasso museum is a bit of a waste as most of his more famous works are in galleries in London and New York but if you are a lover of art, then you wont want to miss this. Visit the open markets, and don't forget to take a walk on the marina.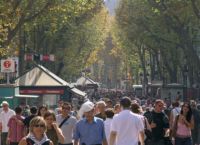 A stroll through the Ramblas and Gothic quarter also covers most of the sights with Passeig de Garcia and Placa de Catalunya in the same area. In the Gothic Quarter you can see where Barcelona began and the Ramblas area comes alive in the night with street performers, this street is a must for shopping as well!

Poble Espanyol is a major legacy with all of the Spanish regions in one place! All the architecture, food styles, handicrafts of Spain come together over here. You can also visit the Placa d'Espanya. Tibidabo offers a magnificent view of the city with a new science museum and an amusement park for your entertainment. The church is also worth seeing in Tibidabo.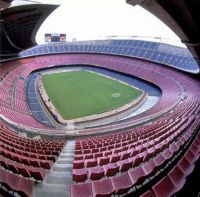 For sport buff's the Olympic and the Football Club of Barcelona (Camp Nou) is a must!
All of this covers just the major sights of Barcelona. There are many more sights to see, that's why as I said earlier, it is essential to plan your sight seeing as you might miss something! I recommend staying near the Ramblas or Gothic area. Hey remember to have some fun amidst all your planning and travelling!




Our last and final spot is Andorra. You can hire a car from Barcelona and drive to Andorra or take a coach from Barcelona which leaves at regular intervals. As I mentioned earlier, Andorra is a mountain country nestled between France and Spain. It is preferable to live in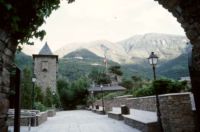 Andorra La Vella as it is the main area of Andorra. Again to explore Andorra at your own time and leisure it is preferable to have a car! Andorra is known for skiing and in the summers white water rafting. May to June-July are the off months for outdoor activities which Andorra is popular for but it is fun to explore Andorra is the off-season as well. The views are mind blowing as you see the majestic views and the rivers and the trees surround you. Andorra is a shopping haven as it is much cheaper and most of the brands are available too. Sun-glasses, watches and perfumes are a steal. Most of the information is available at the local tourist offices and they are your best bet for getting the most out of your visit to Andorra.

More importantly to remember is that the wines are exquisite in Spain, so if you like drinking out of a tall stemmed glass then its vital that you let yourself go and indulge! You can ask the restaurant for a recommendation if you aren't too sure about your wine selection. Also, if you are a vegetarian please specify that you eat no meat, fish or eggs as Spanish cuisine is largely meat based. Most places usually make something for you but if you are a fussy eater please carry some food with you. Nevertheless don't forget to try some of the different tapas and of course the gazpacho soup and paella's. Another thing is that language can be a bit of a hindrance in Spain, so you could carry a book to help translate but mostly all restaurants have at least one person who speaks a little bit of English.

Points to remember:
*Find out the visa details and requirements
*Carry money as well as debit cards (Traveler's Checks aren't popular anymore)
*Preferably do all the bookings and confirm your bookings
*Visit the web sites like www.spain.info or www.barcelona.com and do your homework
*Check the temperature before you go for help in what clothes to carry
*Carry a book like lonely planet to help you out

If you are going to hire a car:
*Get an international license done
*Ask for maps and for directions either from the tourist office or your hotel reception

Lastly remember to take loads of snaps so you can remember your perfect holiday!!
Happy travelling...
---