Get a Party Hard Driver to drive you home!


Win Free Vouchers!!


| | |
| --- | --- |
| | |

Author: Francesca Mascarenhas

Savio My Saviour!

I hope that all you guys have gone through atleast one 'Bad Haircut' in your lives 'coz only then will you appreciate my friend Savio!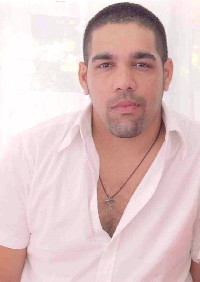 Now excuse me while I reminisce a little...In 1998 just before Christmas I went for what I thought was just another haircut, you know to the 'salon round the corner'. Little did I know I'd be going home in tears. But enough about me and my childhood traumas.... My sister's wedding was a year later and oh boy was i glad that Savio was her old High School friend.

As he did her hair for her special day, I remember looking longingly, wishing my locks were longer and prettier. (You know sister of the bride should be able to bag atleast a few proposals.) I was ecstatic when Savio finished my hair, a little cut gave it a little shape and that torturous look i sported for that entire year just slid of my newly straightened hair.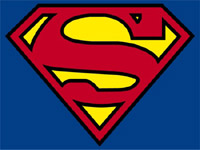 Well that was my first most memorable encounter with Sav that i just couldn't resist sharing it with you. I've known him for about 6 years, though he probably remembers me in my diapers but thats not something I'm going to throw any light on! The most carefree, fun loving individual I know with an attitude so contagious you can't help but smile. His genuinity complements his credibility and its because of his hardwork that today he is the proud owner of his own Salon MAGIC which he runs with his partner Apeni.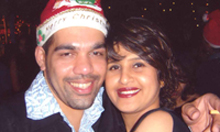 He tied the knot in 1999 and has 2 kids Denise and Jaden with his lovely wife Priya. Family man is just another one of his irresistable qualities. Sorry girls this one's taken!


Views about Bombay

1.High Energy City
2.It's a City that is on the go 24/7
3.Most Cosmopolitan city
4.Bollywood Rocks
5.Best night life


5 things you would change about Bombay

1.The Roads
2.More Greenery and Children's Parks
3.Get rid of all the slums
4.Night Clubs to stay open till 6 am
5.24 hrs eating out places


Favorite places in Bombay to go for...

1.A first Date : "depends on the moolah in your pocket"

2.Dinner : The Zodiac Grill or Hot , Sizzling Mom's home cooked meals!!!!

3.Clubbing : Seijos/ Zenzi / Lobby Bar

4.Boys night out : Club IX and then hit any of the night clubs that allow STAGS in(who are completely smashed).

5.A Quiet Coffee : The Magic Lounge


Perfect Picnic Recipe

1.Prii (thats Sav's wife)
2.Two cases of chilled Kingfisher pints
3.Hip flask – should be filled with Jack Daniels
4.Picnic basket from Pam's Potpourri ( 98334 19991 )…go for it..the most amazing picnic goodies in there!!!~!!
5.Bikini clad women around ( my eyes need the exercise)
6.Loads of toys to keep the babies busy

Ideal Weekend Destination

Panchgani!!!!!!!


Idea of Fun

*Chillin out with friends
*Clubbin and getting totally whacked
*BBQ with family and friends
*Goin to the park with my babies


What are you most passionate about?

Women!!!! And Hairdressing!!!!

When did you start hair dressing?

April 1996…

Will you always do it?

Yes!! Marte dum tak. Dreamt of it since I was 10 years old and understood what women were all about..

If not a hairstylist, what would you be?

*Sailor
*Armed Forces
*Priest
*Motivational Speaker


About MAGIC!!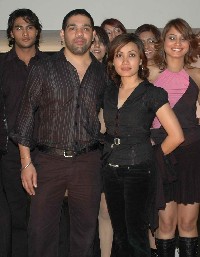 Started in October 2005 by Savio Pereira and Apeni Sandhu (Slash). They started their careers with Nalini & Yasmin, launched 'WATERS" Salon in 2003 which was situated in Bandra.

Moved on and have now launched, their new venture "MAGIC".

Internationally trained with Vidal Sassoon, Toni n Guy, Saks, Charles Worthington, and Trevor Sorbi, (All in London). Presently Schwarzkopf Professional India Creative Brand Ambassadors!

They are into Hair, Make-Up and Education with their own Creative Academy for Hair and Make-Up and Salon Management.

Celebrity Clientele at Magic

· Fardeen Khan
· Sophia Haque
· Aamir Khan
· Hritik Roshan
· Zayed Khan
· Koel Purie
· Ajay Devgan
· Esha Deol
· Neha Dupia
· Shilpa Shetty
· Yana Gupta
· Yuvraj Singh
· Zaheer Khan
· Pooja Bedi
· Gauri Pradhan
· Sunidhi Chauhan
· Sunali Rathod
· Mansi Scott
· KK
· Dr. Akshay Batra
· DJ Akhtar
· Pooja Rawal
· Dr Rekha Seth
· Hritwik Bhattacharya
· Kavita & Vikrant Chougle
· Sonali Malhotra
· Bhanu
· Udita Goswami
· Rajeev Singh

Along with a host of Media persons, TV stars, models etc the list could go on and on.


And thats Savio for you, Magic has 2 branches at Juhu and Marine Lines in South Bombay...for those of you who haven't yet had the chance to meet him, don't worry...its not too late. You can make your appointments at 022 26716262.

I don't know what makes Savio such a cool person, but I feel lucky just knowing him.

Cheers Sav, Rock on...
---