Get a Party Hard Driver to drive you home!


Win Free Vouchers!!


| | |
| --- | --- |
| | |

Author: Francesca Mascarenhas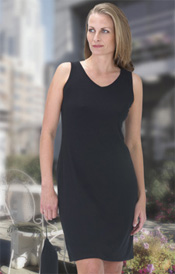 The little black book has competition, hot and powerful with an ability to turn heads and leave tongues hanging; the 'little black dress' never fails to impress. Stylish, sexy, sensuous, an essential for every girl, and it just never seems to fizzle out. Its seen more red carpets than one dare count, and why not! Its part of every girls wardrobe and fits almost every occasion and waistline. You just can't go wrong with one of these little numbers.

The remarkable thing about them is that they can be dressed down in opposition to the norm of it having to be strictly for black tie evenings and other such formal affairs. At the risk of appearing trendy and tres chic wear it over jeans if your headed to your local club, or go with a pair of loose linens teamed with a sling bag across your shoulder and a pair of flip-flops if your out for an 11pm cuppa. One of my personal favorites is a strapless slim fit over a pair of balloon pants hoisted on black stilettos. Dare to wear!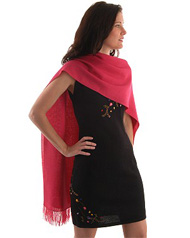 The little black dress must definitely be third date material, its not something you should unleash on him until your absolutely sure he's ready. And if you think black is a color that has been done to death then how about splashing on some different shades, accessories still remain the valued trend of every season. You don't have to be in front of a camera to wear a bright pink scarf tied around your head, but for those of us not that daring, go with a bronze clutch purse or multi-colored beads in your neck. Try footwear with studded straps or bold colored hoops in your ears. However color should not be abused, an overdose of anything can make you feel ill and that's a definite turn-off.

Be it 'Sex And The City' or 'Desperate Housewives' every one of those gorgeous gals have worn one, the desi equivalent may just as well be the black shiffon sari with the almost non existent choli-blouse. When our fashion gurus brought the black dress home, we saw beautiful variations of it adorned with sari prints and intricate beadwork, that's fashion fusion for you.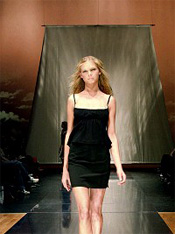 The black dress has seen many a couture show as well as shared small screen and big screen space with the biggest names and definitely with the most beautiful faces across the world. Its been known to leave its patrons feeling independent, stylish and very sexy!

So use this little 'sex-factor', flaunt it, fuse it, flame it! And be sure to know that you've truly arrived.
---