Get a Party Hard Driver to drive you home!


Win Free Vouchers!!


| | |
| --- | --- |
| | |

Author: Francesca Mascarenhas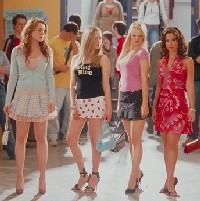 The 'Short Skirt Syndrome' is doing its rounds yet again on the party circuit. The excuse this time is the rain, but these little numbers hardly need an excuse. Britney Spears in her debut video glorified the school-girl's skirt raising hemlines across the globe. There was a time in the early 90's when a girl donning a mini in a classroom wasn't a rare sight. But with present day rules and regulations minis are now creating mayem mostly at midnight.

The short skirt seems to be the choice for all seasons and all the year through. It's an obvious summer attraction and the best way to show off those tanned legs that you so meticulously lathered all through your vacation and the only option if you want to show off those new fishnet stockings you've been dying to wear..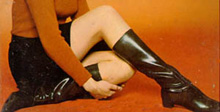 Knee-high boots go really well with a sexy short skirt and can never fail to attract attention. When the sky turns grey, the sound of the pitter patter outside leaves you with no other option besides that itsy-bitsy, but oh so sexy skirt hanging in your wardrobe. This may be the very reason why these little numbers never see the back of the shelf or the bottom of the rack in your cupboard. And let's face it the guys like it and the girls really do know how to work it.

No occasion is too big or too small to wear one of your short skirts. We've seen all our V.J.s in one whatever the occasion, be it a movie premiere, a dinner party or just to go out clubbing.Christina Aguilera definitely redefined the short skirt when she made her transformation from the girl we all loved in 'Genie in a Bottle' to the girl we all want in 'Dirrty'. Christina's skirts are not longer than 4inches in length but unfortunately that's one style statement that we're not bringing home, even if it involves saving fabric.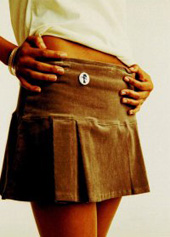 For those of you who think a 1000 ruppees is a bit much for these tiny tidbits don't worry they are available on the raastas of Fashion Street, Colaba Causeway, Hill Road and Linking Road at really great bargains. But if you don't mind something a little more expensive but definitely worth every penny then check out Mango and if you're going to trudge all the way to Worli then you might as well take a walk down the streets of Breach Candy to scout for some good deals, I hear Remanika is worth a visit. If you've already been to Lokhandwala (Andheri–West) then its time to head to the Queen of the suburbs- Bandra is definitely where its at. Any store on Hill Road or Linking Road will show you a variety of skirts in different fabrics and styles, whether its pleats or frills you fancy, they have it all. With prices ranging anywhere from Rs.500/- to Rs.1200/-

Some good stores would be Tirawa, High, Kink situated on Waterfield Road which is the road that connects Hill Road to Linking Road. Just off Waterfield Road is Potion 9 and Sign O'Times. Walking up to Ambedkar Road you'll find Si Branche and down the road you'll find Azure and Guapa Chica. Other stores to recommend would be Karma Kola, Drama Queen, Wardrobe, Adonis, Rock-the fashion studio, Style Mantra, Just Phat to name a few…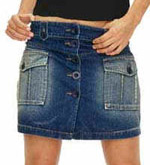 The short cut-a-way denim skirt still reigns as the all time favorite, its great cause you can dress it up with a black tube top hoisted on black stilettos with shiny accessories or you can go for a more trendy look if you team it up with a racer back in any colour with the latest flat boots that are a rage this season.

So all you girls who worry about what to wear just invest in one of these minis, shave your legs and your ready to turn heads everywhere.
---