Get a Party Hard Driver to drive you home!


Win Free Vouchers!!


| | |
| --- | --- |
| | |

DVD Pick
Top Gun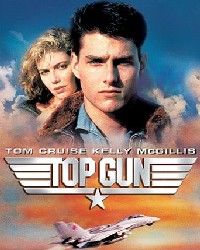 "Top Gun" is the type of movie that turns the screen into an altar. Kneeling before its slick façade of 1980s magnificence, you are in the shadow of a film that has defined the modern day action blockbuster.
In the opening moments of "Top Gun," an ace Navy pilot flies upside down about 18 inches above a Russian-built MiG and snaps a Polaroid picture of the enemy pilot. Then he flips him the finger and peels off.
It's a hot-dog stunt, but it makes the pilot (Tom Cruise) famous within the small circle of Navy personnel who are cleared to receive information about close encounters with enemy aircraft. And the pilot, whose code name is Maverick, is selected for the Navy's elite flying school, which is dedicated to the dying art of aerial dogfights. The best graduate from each class at the school is known as "Top Gun."

And there, I think, you have the basic materials of this movie, except, of course, for three more obligatory ingredients in all movies about brave young pilots: (1) the girl, (2) the mystery of the heroic father and (3) the rivalry with another pilot. It turns out that Maverick's dad was a brilliant Navy jet pilot during the Vietnam era, until he and his plane disappeared in unexplained circumstances. And it also turns out that one of the instructors at the flying school is a pretty young brunette (Kelly McGillis) who wants to know a lot more about how Maverick snapped that other pilot's picture.

And this Hollywood ride works equally well for both sexes. The guys get incredible action sequences and simple buddy-bonding emotional moments. And the ladies get an amazing Tom Cruise playing the romantic lead while retaining an impetuous, unpredictable and exciting nature that adds depth to this on-the-surface shallow movie.


Book Pick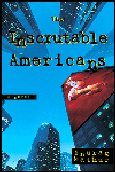 The Inscrutable Americans – Anurag Mathur

The Inscrutable Americans written brilliantly by Anurag Mathur is a hilarious account of the travails of an Indian student (from a village called Jajau in Madhya Pradesh) over a year on a university campus in the USA. His English or should we call it 'Hinglish' (Hindi incorporated in English) may be amusing, and he may have initially been aghast seeing life in the USA, but his analysis and handling of situations (which are so very similar to what almost each and everyone of us teenage University students go through) endears him to the reader. The villager's wit and wisdom and innocence inherent in him guide him through the ups and downs he experiences on campus. The author has not only had his laugh at both the Americans and us Indians, but there is a deeper meaning in the story which transcends its comical flow.

From the beginning of the book till the end, the story of his 'discovery' of life in the United States keeps us in splits. It begins with a letter written by the chief protagonist Gopal (confused by one of his classmates with the Indian city of Bhopal as "the place from where all that gas came out") to his younger brother. In it he writes about his first feelings on reaching the land of the Almighty Dollar. He writes about "having good time drinking 37 glasses of Coca Cola" on the flight, and about a Customs Officer in the airport who keeps on telling him "Totally nuts, totally nuts" making him feel that the officer "is loving cashewnuts, so we are having friendly talk about nuts".
The way he adjusts to American life from a luxurious life full of servants in India is chronicled beautifully. In another letter to his brother (no, the book isn't full of letters to his younger brother) he writes, "If Grandma hear that I am cleaning own latrine, she is starting to sing holy songs again, and I think she is leaving earthly form". Even the ecstasy of falling in love, and the heartache he experiences falling out of love brings him closer to our heart.

As the book goes on, the hilarity continues, only to come to a pretty abrupt end. On the whole the book is highly readable, and arouses moods of laughter and sadness in the reader. Personally it made me, and I could say every one of my friends who has read this book, draw parallels with his/her own life. The name of the book gets Atif Malik into bouts of laughter. "It's simply fabulous." He manages to add between that.


Shopping Pick

CD Carousel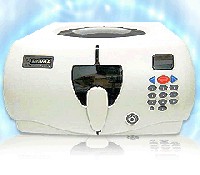 Having any problem finding the CDs? Always forget where the CDs are? Managing CD's and DVD's can be a painful process. Not any more. With Taiwan-based Dacal's CD carousel, you will never handle your CD's again. Primarily a storage utility, the CD Carousel can manage upto 150 discs fully searchable via the PC, using title or keyword. If one carousel is not enough, you can always attach more.

The CD Library II can store all kinds of CD in 12cm size, such as CDs, DVDs, game CDs, or Music CDs. The unit can connect to the personal computer via USB cable. The shape of CD Library II is stackable for saving more spaces. Users may manage all the CD database with the CD Library software which is included within the package. Users may find the CDs by CD titles, CD contents, category, remark, and etc. After searching from the software, just simply double click the one from the screen, the CD Library II will spin and pull out the CD.
If users will not use CD Library II with computer operation, the stand alone is an option as well. Just directly press the slot number from the key pad which is located at the right hand side of the machine. After press the enter key, the machine will spin to the specific slot and pull out the CD for you. With the stand alone option, Dacal Company provides a form called management form for users to index if their machine didn't connect to PC.
So stop man handling them discs, shell out $126 and never touch a CD again! I think it is a small price to pay.


Food Pick

Grill Sandwich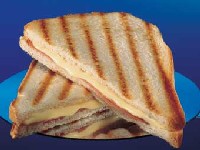 OK, this dish does not need any introduction. We all have had it at some time or the other. But usually in a restaurant or some place chic where the options will simply kill you.
I suggest a change of location. Let it pour like it is these days, swim your way to Mithibai college and order a fresh grill sandwich and a cup of tea from a nearby stall to savour with it. It is a treat to the taste buds.

Loaded with all vegetables possible and cheese sprinkled over it generously, you will not help but drool while it is grilling right there in front of you and the aroma filling up your nostrils. Besides watching out for all the fat if you are diet conscious, another thing you should watch out for is that you do not over-eat or you might find it really difficult to move. Quantity is mind boggling at the price of 40 Rs and if you are not too much of an eater, take a friend along.
Psst. Even if you are on a diet, just forget it for those few minutes yea. It is well worth the extra 30 minutes of cardio, any self respecting Bombayite will tell you that.

---