Get a Party Hard Driver to drive you home!


Win Free Vouchers!!


| | |
| --- | --- |
| | |

Wimbledon – The Oscars of Tennis
Indians have won this championship 4 times since it started off way back in 1875. Only two Indians have accomplished this feat. This year, for the first time, an Indian woman tennis player went into the second round of what is considered to be the most prestigious tournament for this sport. Any guesses what I am referring to?

Dead on! The sport is Tennis and the tournament Wimbledon. What started as an amateurs-only pass-time tournament for the wealthy more than a century ago has today evolved into a multi-million dollar sport, getting tickets for which is something only Tom Cruise can do for us in Mission Impossible 3.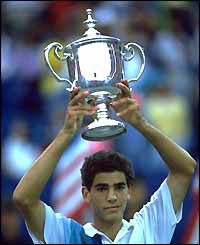 The dates for Wimbledon change every year. One observation states that it is held 6 weeks before the first Monday in August (whoever paid someone to figure that one out!). However, one thing never changes – for 13 days every year; Lawn Tennis Championships held in Wimbledon, England are the toast of Tennis lovers of the world.

The piece of land on Worple Road in Wimbledon where Wimbledon started was grudgingly set aside by the All-England Croquet Club as people felt that tennis was physically more demanding (obviously) and much more exciting than croquet.

Back when it started, tennis was not the sport as we know it. It was played with very big rackets and the net was 5 feet high at the ends and gradually dropped to 3 feet in the centre. This was derived from the Greek version of the game called "real tennis" or "court tennis". Lawn tennis evolved from this in 1877.



Just like at everything everywhere else, women could not play tennis at Wimbledon. The first ladies tournament was held in 1884. Ironically the centre court dubbed as the fastest lawn tennis court in the world was not in the centre at all. It was way off on one side. This is where the championships are held and for the rest of the year, it is out of bounds to everyone save the ground staff.

During the Second World War, the court suffered extensive damage and had to be renovated. Today the grass is frequently hand-weeded and mowed down to 1/8 of an inch in height. Then it is rolled in two directions by a two-ton roller. This leaves a playing surface so even and firm the players feel it gives the best "true bounce". It is also equipped with a tent like cover which can be put up in a flash by the grounds men in case the rains play spoil sport.
Post Second World War, many of the players went professional and according to the then rules were disqualified from playing at Wimbledon as it was only for rookies. Fearing a decline in popularity, the rules were modified to make it open for both enthusiasts and professionals.

As years passed, the sport increased in popularity and participation spread to countries besides the European nations. Althea Gibson became the first black player to win the title in 1957. Pete Sampras and William Renshaw hold the record for the maximum number of Men's Wimbledon titles with seven titles each and in the Women's single's titles Martina Navratilova in the undisputed leader with as many as nine titles to her credit.

Leander Paes and Mahesh Bhupathi became the first Indians to win at Wimbledon in 1999, before the unfortunate and unexpected parting of ways as a double's team. In the same year, Leander went on to win the Mixed Double's title with Lisa Raymond. There was a three year lull before Mahesh along with Elena Likhovtseva won again in 2002. Leander repeated his 1999 feat in 2003 –this time with Martina. Disappointingly, Leander and Mahesh could never regain their golden touch and rework the magic of 1999.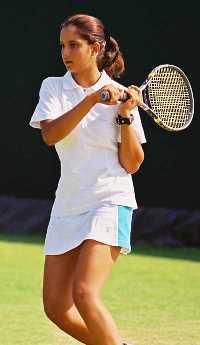 Wimbledon 2005 has just seen history being made for India with Sania Mirza becoming the first Indian woman to make it into the second round of Wimbledon. Sania, a junior Wimbledon champion defeated Akiko Moragami in a match that could have gone either way. Let's wait and see whether she continues her wining streak when she meets US Open Champion Svetlana Kuznetsova, over whom she had a shock victory in the Dubai Open, in the second round.

One word synonymous with Wimbledon is 'pressure'. Being there in the centre court, is being in the centre of everyone's attention, and playing then suddenly becomes a lot harder than you can imagine. Following the lull in tennis after the retirement of Pete Sampras, Andre Agassi and Michael Chang in quick succession, tennis is back on its feet with performers like Roger Frederer, Safin, the Williams sisters and Maria Sharapova making for entertaining contests.

For now, you can sit back with strawberries and cream and join the rest of the world in enjoying Wimbledon mania and cheer for Sania. Go girl! May the force be with you!

Trivia

Left-handers make up about ten per cent of the world's population but when it comes to tennis - or at least becoming champions of Wimbledon - the percentage is even lower. Only eight left-handed players, six men and two women, have ever won a Wimbledon singles title and it is only in recent years through the repeat skills of such as Martina Navratilova and John McEnroe that the total of singles titles annexed reached 24.


---