Get a Party Hard Driver to drive you home!


Win Free Vouchers!!


| | |
| --- | --- |
| | |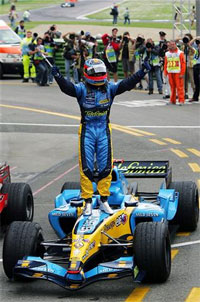 Any doubts that Renault driver Fernando Alonso was just a speed demon riding on his luck and other drivers' misfortunes were laid to rest in San Marino on Sunday. The Spaniard proved that he has more to his arsenal than speed and guts. Tact, strategic thinking and ability to resist pressure now makes this Young Turk a force to be reckoned with; engine or experience power notwithstanding.

Alonso started second in pole position, behind McLaren's Raikkonen and followed by BAR Honda's Button. Raikkonen grabbed a 2 second lead after the first lap, and after eight laps he was 3.4 seconds ahead of Alonso. But then McLaren, which had 6 out of 6 finishes in 2005, had an engine failure and Kimi was back in the pits, joining Renault's Fisichella. They were later joined by Ferrari's Barrichello, and Minardi's Albers & Friesacher, assuring that only 15 out of the 20 drivers would finish the race.

Reigning champion Michael Schumacher signaled warning bells all around the F1 circuit by making a quantum leap from starting at 13th, and finishing runners-up to Alonso. The critics would have to scamper to remove the 'has-been' tag they were so intent on applying to Schumi since the start of this season. For a long time Schumacher was 11th behind his brother Ralf with seemingly no way out. First pit-stop later it was a different story altogether. Other drivers' timings and Ferrari's soaring speeds pushed Michael Schumacher from 11th to 3rd, while brother Ralf remained 10th.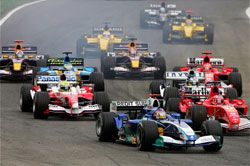 All this while Button was playing catch up with the leading Alonso. The Spaniard was setting lap times of 1:24+, while Schumi was almost breaking the 1:22 barrier. So it was not a question of if he could challenge Button's second, it was a question of when. With fourteen laps to go, Button's pit-stop cost him his second place; and even though Schumacher pitted himself in the next lap, he just sped past all trailing drivers to get within 1.5 second of Alonso. So with 12 laps remaining, fans knew they were in for a special finale.

The gap kept decreasing every lap but Schumacher just couldn't find a way past the cool-headed Spaniard. Ferrari's new F2005 engine was finally showing the F1 world what it was capable of, but it was a race that Alonso just wasn't willing to lose. Wise braking and revving around corners did the trick for Alonso who crossed the finish line with Schumacher at his tail just 0.215 seconds behind him.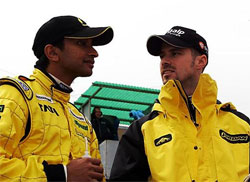 Button took the last podium place some 10 seconds behind Alonso. He was followed by McLaren's stand-in driver Wurz, and team-mate Sato. Villeneuve and Trulli were next in line followed by Ralf Schumacher, Heidfeld and Webber. Karthikeyan took the 14th spot and team-mate Tiago Monteiro wrapped up the last spot. Karthikeyan later said it was his best race so far, and keeping up with Coulthard's Red Bull car was encouraging.

Spanish fans dressed as matadors 'Ole-d' Fernando Alonso's third consecutive F1 victory this season. This feat added to Fisichella's win means that Renault are so far the undisputed constructors in the Formula 1. With 46 points, Renault lead the constructor's race, as does Alonso lead the driver's race with 36 points. Trulli is his closest rival with 18 points.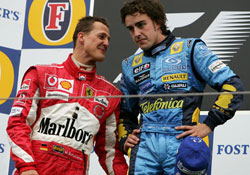 Michael Schumacher's never-say-die spirit almost saw him make a winning comeback that only he is capable of. The new engine has finally shown what it is capable of, and one might wonder if this break from Ferrari's domination was only a temporary rest-bite. Could Renault & others maintain podium finishes? Or is playtime over? Alonso will be at home at Catalunya for the Spanish Grand Prix on May 8 and we know one thing, Renault wont give up the fight easily, and neither will Ferrari. 'It aint over till its over', who better to know that than these two after Sunday's race?!
---