Get a Party Hard Driver to drive you home!


Win Free Vouchers!!


| | |
| --- | --- |
| | |

Author: Nishita Lalvani
Source: Outlook, Seasons India, Virgin.net
The blazing summer sun is finally here, and it's time to heat things up a bit with this year's summer styles. Summer fashion is cool, trendy and vibrant with more accent on colour, prints and rustic style. With an emphasis on fabric, tailoring and patterns, this summer is all about being simple, getting colorful, looking relaxed, and going out in style.

Bestofbombay.com brings you the summer fashion trends this year that will keep you cool in the sweltering heat…

Colour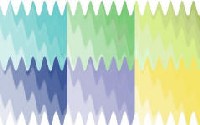 Summer's new color palette include pastels and, as always white. There's a virtual rainbow of colors-beautiful shades of turquoise, mint and apple green, pistachio, lavender, cream and fuchsia. Solids are mixed with patterns: Look for polka dots, stripes and florals.

The colour blue in the form of glacial blue, icy aquamarine is is also dominating this spring. White is the by far the most versatile color this season, as it goes with neutrals as well as the bright, clear pastels.

'The look for 2009 is a lot of fluid shapes. I also see plenty of cool colours like pinks and lilacs and a lot of feminine lines, which will be seen in my summer 2009 collection' ,says designer Monisha Jaisingh


Skirts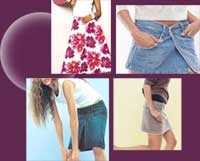 The look for spring/summer '09 is a mix of bohemian-feminine-retro typified by flowing silhouettes.

In the skirtscape, the gypsy skirt is joined by the miniskirt, but this time around, with panels and pleats.The spring-summer collection has a cornucopia of skirts—gypsy, circular ones that could be gathered, panelled/pleated, miniskirts and even pencil skirts.

For those who have long legs go in for mini skirts and wrap around skirts and flaunt those sexy legs. Those who are on the bulkier side can opt for long flowing skirts with floral prints which are trendy and in-vogue. Flaunt your curves on a boyish figure with a body-hugging cut.

As well as getting brighter, clothes are also getting shorter - so minis and babydoll dresses are in. Get ready for the summer heatwave, men!


Tops

'Unlike last year, this season we'll get to see garments that have expansive hemlines and loose fits', says Calcutta-based designer Kiran Uttam Ghosh.

For example, a flowy top with a skinny trouser or a pencil skirt or a fitting top with baggy trousers. But this season's favourites are kurtis again, followed by ponchos and kaftan tops. This season might witness a slightly longer kurti; one that's been extended to near knee-length, long enough that it might as well be called a kurta.

But if you ask some designers, they would rather have you throw the kurti out . They advise somthing more flirty, like camisoles or off-shoulder tops to anyone who wants the right mix of style and comfort in the summer months.

Those who have a perfect figure can go in for body hugging cotton tops. Sleeveless, strappy, halter and spaghetti tops are also a good bet this summer .


Pants

The trend toward eclecticism and femininity is perhaps best expressed this season by one of the season's must-haves - the cargo pant. Capri pants are also in and give the much required comfort and flexibility.

Cropped pants, shorts and stretch pants in a variety of fabrics are other trends which come in comfortable fits this summer. Also look out for the new Bermuda pant, that pop star-glam doll Jennifer Lopez is flaunting in her latest music video Get Right.

However don't chuck your pants from last season just yet. 'Definitely keep a few pairs of linen pants in your cupboard this summer', suggests Bangalore-based designer Manoviraj Khosla.


Ethnic Wear:

Churidars will be more like dogris (tight around the leg and roomy above) and patiala-salwars with short kameez will still be in demand," says Calcutta-based designer Pali Sachdeva of the Monapali label.

All time summer favorites, pastel coloured lucknowi salwar suits and cotton saris are also recommended.


Swimwear

Summer is the best time to show off that figure that you spend all year in the gym work on. Bright coloured swimsuits , bikinis and tankinis are avaliable all over.

Don't forget the suncreen lotion and the huge beach hats though!


Accessories: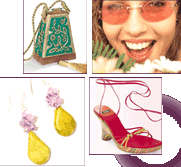 Style is incomplete without accessories. Designers predict a heavy emphasis on accessories this season. Accessories will have handcrafted details like macrame (a handwork technique in which the thread is knotted to create interesting effects) and crochet.

A macrame bag or belt seems to be a must-have this season. If it has a sprinkling of beads or shells, your bag can be quite a head-turner at any party.

This summer accessories flirt with colour. Jewellery in coral or simple styles in silver and gold will look great. Dont forget the sun glasses with a tint of shine.


Footwear

This season footwear is bright, colourful and funky. Round toes are making an appearance, with and without heels, while sandals remain as popular as last year - just more colourful and with more detail. Pointed toes are also very in and flat versions look great with flared jeans and pedal pushers. There'll also be plenty of strappy sandals, which are the perfect complement to this season's swishing skirts and dresses.


So why are you still staring at your computer screen? Go find your shopping bags, grab those credit cards and prepare to surrender yourself to the wonders of retail therapy!
---