Get a Party Hard Driver to drive you home!


Win Free Vouchers!!


| | |
| --- | --- |
| | |

Naina's is a fashion boutique owned by Mrs. Naina Shah. Her love affair with fashion and creativity started in the early 90's with an export house, Naina's Apparel Pvt. Ltd., catering to the international markets. For over a decade now, the company has been supplying knitted and woven garments to the international retailers and has also worked with high street fashion and production houses. It is an organisation that specialises in creating delicate hand embroidery on a variety of Indian and imported fabrics such as chiffon, tulle, organza, lycra and various other stretch knits. Naina's Apparel is renowned for its unmatched quality and service to haute couture designers like Armani and Valentino, to name a few.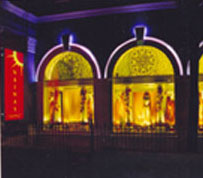 JSS is a manufacturing base, run by skilled professionals, who have years of experience and expertise in their trade. This unit implements the best machinery, ensuring a quality of the highest degree equipment like Juki and Pegasus, and techniques such as Naomoto, an original Japanese innovation, which is a distinguished feature of Naina's manufacturing.

After her success in the export market, Naina felt the need to launch her label in the Indian line. And so, she opened her boutique for fabrics, bridal wear and ready-made ethnic attire in February 2002. Naina's is the sister concern of Naina's Apparel Pvt. Ltd., and JSS. It is an exclusively designed fashion house, covering over 4000 sq. ft. of space and housing designer creations. Eminently located in an old heritage building, in a prominent area of the city, the boutique merges a cultural structure with modern architecture and epitomises beauty, inside and out. The ambience with its sophisticated, yet warm interior, well trained and friendly personnel make one's shopping experience a truly memorable affair.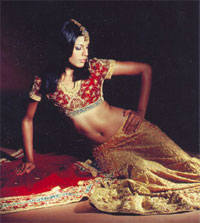 The fabrics at the store are specially bought from the remotest corners of India and abroad and handpicked by Naina itself. One can find the most unusual colours and textures of all varieties like silks, chiffons, georgettes, crepes, nets, tissues, linens, cottons and even traditional bandhini and brocades available in cut-piece suits and as loose fabrics. Woven dupattas and plain, printed, embroidered or hand-painted stoles epitomise a rare blend of creativity and style.

Naina's also deals in ready to wear garments. Formals, semi-formals, casuals, traditional, indo-western, and bridal attire are all available here. Stunning creations laced with the richness of stones to sequins to beads for embroidery as well as stitches from Kashmiri to French knots to lazy daisy are all translated into tastefully styled ensembles under her label. Imagination and creativity, along with an eye for unusual colours and cuts and a flair for couture, fuelled by her passion and dedication has helped Naina Shah to create her own signature style. She unveils a new collection every three months, with a variety of embroidery designs and pure freshness. She believes that clothes should be beautiful, classic and wearable. They should flatter the human form, not distract from it and enhance the wearers personality.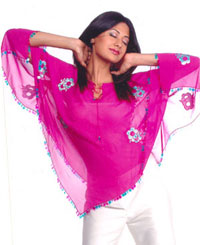 Thus, after over a decade of experience, expertise and tremendous success in the field of exporting fabrics and embroidery, catering to NRIs and the crème de la crème of Mumbai, Naina Shah has managed to carve a niche for herself in the fashion industry. Her boutique, Naina's is now here to meet the needs and expectations of people who desire exclusivity and quality.

Naina's
Fabrics & Embroideries
3, Khatau Mansion, Grd. Flr.,
95, Bhulabhai Desai Road,
Oomer Park, Mumbai – 400036.
Tel No. 3613613
---