Get a Party Hard Driver to drive you home!


Win Free Vouchers!!


| | |
| --- | --- |
| | |

What's new at Crossword - Sept '04






This month, Crossword gives us a sneak peek into a few of the new and noteworthy books adorning their shelves. This week Crossword showcases Sidney Sheldon's comeback book, Are You Afraid of The Dark?. The book marks Sheldon's return to the literary world after a hiatus of a few years. So check them out.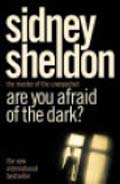 Are you Afraid of the Dark?
Sidney Sheldon
Crossword price: Rs 195
In New York, Denver, Paris and Berlin, four people have died separately in apparent accidents. Two women, the widows of two of the dead, find themselves under ruthless attack and are drawn together in fear, confusion and for mutual protection. But are they being targeted because one of them is the prosecution witness at a famous criminal trial? Or is there a connection to the mystery behind their husband's deaths? Meanwhile, Tanner Kingsley, Chief Executive of an international Think Tank created only seven years ago, is on the cusp of an amazing discovery which could alter the future of the world. If properly handled, the outcome of this could deliver unbelievable power into the company's hands. But are the mysterious deaths connected to this volatile secret? And can it be further protected?

Monstrous Regiment
Terry Pratchett
NOW IN PAPERBACK
Cover price: Rs 367
Crossword price: Rs 315
It began as a sudden strange fancy ...Polly Perks had to become a boy in a hurry. Cutting off her hair and wearing trousers was easy. Learning to fart and belch in public and walk like an ape took more time ...And now she's enlisted in the army and searching for her lost brother. But there's a war on. There's always a war on. And Polly and her fellow recruits are suddenly in the thick of it, without any training, and the enemy is hunting them. All they have on their side is the most artful sergeant in the army and a vampire with a lust for coffee. Well ... they have the Secret. And as they take the war to the heart of the enemy, they have to use all the resources of ... the Monstrous Regiment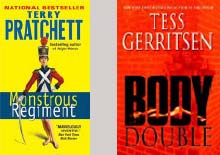 Big Bad Wolf
James Patterson
NOW IN PAPERBACK
Cover price: Rs 622
Crossword price: Rs 200
Across the country, men and women are kidnapped in broad daylight and then disappear completely. These people are not being taken for ransom, Alex realizes. They are being bought and sold. And it seems The Wolf is the master criminal behind this terrible trade and who is bringing a new reign of terror to organized crime. Even as he admires the FBI's vast resources, Alex grows impatient with the Bureau's clumsiness and caution, and has to go out on his own in order to track his new prey and try to rescue some of the victims while they are still alive...

The Da Vinci Deception
Thomas Swan
Cover price: Rs 318
Crossword price: Rs 245
Following three years of intensive preparation, well-fed art dealer Jonas Kalem is ready to offer to the world the discovery he's long been hinting at: a new page from the sketchbooks of Leonardo da Vinci, with others perhaps to follow. The first drawing, a study for the Mona Lisa accompanied by notes in Leonardo's distinctive left-handed writing, is worth millions, or would be if it hadn't been drawn within the month by gifted forger Curtis Stiehl, whose recent release from prison had closed the circle of Kalem's hand-picked colleagues in the fraud. The theft from the library goes off with all the clockwork precision of a good TV movie, but an unexpected glitch, the result of a police officer's incredible indiscretion brings C13 into the picture for a series of cat-and-mouse chases that range from New York to Lake Como, where a showdown between Oxby's colleague, Supt. Walter Deats, and Kalem's troops provides a rousing, if unsurprising, denouement.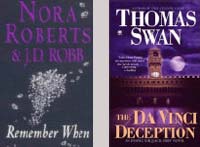 Remember When
Nora Roberts
Cover price: Rs 622
Crossword price: Rs 295
Laine Tavish is an ordinary woman living an ordinary life in the small town of Angel's Gap, Maryland, as the proprietor of Remember When, an antique treasures and gift shop. At least, that's what everyone in Angel's Gap thinks. They have no idea that she used to be Elaine O'Hara, daughter of the notorious con man Big Jack O'Hara. Or that she grew up moving from place to place, one step ahead of the law . . . Laine's past has just caught up with her, though-in a very dramatic way. Her long-lost uncle suddenly turned up in her shop, leaving only a cryptic warning before dying in the street, run down by a car. Soon afterward, her home is ransacked. Now it's up to Laine, and a sexy stranger named Max Gannon, to find out who's chasing her, and why.

Body Double
Tess Gerritson
Cover price: Rs 1318
Crossword price: Rs 560
Dr. Maura Isles has just returned from a trip to France to encounter a grisly discovery. A woman has been found shot to death in front of her home. The woman, whose name is Anna Leoni, turns out to be Maura's twin; both were given up for adoption 40 years ago. The mystery deepens when Officer Rick Ballard shows up and tells Maura and Detective Jane Rizzoli that Anna was on the run from an abusive boyfriend and under police protection. But that still doesn't answer the question of what led Anna to Maura's door, and that question leads Maura to trace her sister's steps to an old house in Maine. Things get even more perplexing when decades-old human bones are found nearby. The human remains lead Maura to her birth mother, Amalthea Lank, who is now in jail for the brutal murder of two women. Maura is unsure whether and how her mother is connected to Anna's death, and she's confused by her growing feelings for Rick, who may have been in love with her sister.

Best of Bombay and Crossword now offer you the chance to win a whole load of goodies from Crossword. We will ask a question every week for three weeks and at the end of each month we will announce a few lucky winners who will win lots of cool stuff from Crossword. So stay tuned and keep writing in.
---